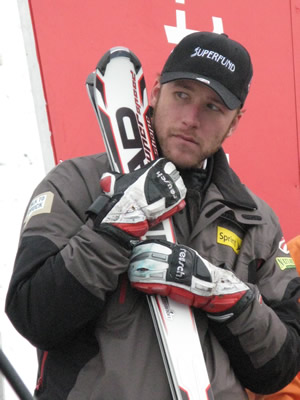 Bode Miller, shown here at Beaver Creek in December, won a World Cup combined event in Kitzbuehel, Austria, Sunday to break Phil Mahre's American record of 27 career victories. Miller is now eight all-time with 28 wins.
By David O. Williams
Miller breaks Mahre's U.S. World Cup victory mark
Independent racer claims combined for 28th career victory
By David O. Williams
January 20, 2008 — At long last it's Miller time.


Bode Miller won a World Cup combined race in Kitzbuehel, Austria, Sunday, surpassing Phil Mahre for the all-time career victory record for an American ski racer. Miller, 30, has now won three World Cup races so far this season and 28 for his career, good for eighth most overall.


"It's a nice record, something you dream about as a kid. As a professional skier, you're more focused on winning each individual race," said Miller, who was 14th in Sunday's slalom portion of the combined and tied for second in Saturday's downhill for a winning combined time of 3 minutes, 38.86 seconds. "Before the season, it was my target to break (Mahre's) record (of 27 wins), and it's a really good feeling if you reach your goals."


For his career, Miller has won nine World Cup giant slalom races, six downhills, five super-G's, five slaloms and three combined races. Mahre, the three-time overall World Cup winner and Olympic gold medalist who retired after the 1984 season, won 11 combined races, nine slaloms and seven giant slaloms in his illustrious career.


"Well, it's about time someone came along and bettered what I'd done. With (Bode's) talent this should have been done long ago," Mahre said. "Anyway, doesn't matter much to me, I was never in the sport for records - seems a bit egotistical. Just hope he can become a great spokesperson for the sport."

Mahre says the only mark that really matters is Swedish great Ingemar Stenmark's all-time career victory total of 86, and in the past has said Miller should have won multiple overall titles by now. Miller did win the overall in 2005, and has won two Olympic silver medals, but never a gold. Miller has previously downplayed the significance of Olympic medals.


Miller now trails retired Austrian Stephan Eberharter (29 victories) by one win for seventh on the all-time list and active rival Benjamin Raich (30 victories), also of Austria, by two wins for sixth on the all-time list.


Raich, who has one win so far this season, was second to Miller in the Kitzbuehel combined and leads Miller 860 to 831 points in the hunt for this season's overall crown.


If Miller, who is racing for his independent Team America this season, catches Eberharter for seventh or even Raich for sixth all-time this season, it's pretty rarified air after that. Retired Swiss great Pirmin Zurbriggen is fifth with 40 wins and the still hard-charging Hermann Maier - second Friday in a super-G on Kitzbuehel's famed Hahnenkamm – is second all-time to Stenmark with 53 wins. But Maier is winless so far this season.


Sunday's slalom leg of the combined was won by Jean-Baptiste Grange of France in 1:45.04. Ted Ligety, of Park City, Utah, finished eighth in the slalom, moving him up to fifth in the combined event after finishing 43rd in Saturday's downhill. Ligety, winless so far this season, has posted several podiums and is currently sixth in the overall hunt with 517 points.


Comment on "Miller breaks Mahre's U.S. World Cup victory mark" using the form below