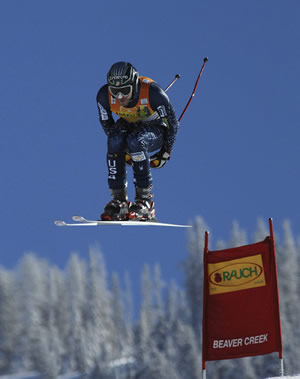 Bode Miller soars to victory on the Birds of Prey course at Beaver Creek in 2006, one of his three World Cup wins in the Vail Valley.
By Dan Davis
trekkerphoto.com
Miller vs. Mahre: debating all-time ski-racing greatness
Miller grabs 30th win to tie Raich on all-time list, pad overall lead
By David O. Williams
February 3, 2008 — Phil Mahre, the ski-racing legend Bode Miller passed a couple of wins ago for the title of best American ever, says Miller had the talent to do to the ski-racing record book what Tiger Woods is doing in golf – rewrite it and become the best ever in his sport, regardless of nationality.


Mahre, who retired from the World Cup circuit in 1985, feels the only record worth celebrating in skiing is Swede Ingemar Stenmark's seemingly unattainable mark of 86 wins. Just as Woods at age 31 approaches Sam Snead's all-time victory total of 82 (having tied Arnold Palmer with 62 on Jan. 27), Miller, 30, at one time had a shot at Stenmark, Mahre says.


"It really isn't a record that warrants that kind of attention," Mahre said earlier this season about his previous American mark of 27 World Cup wins. "It might be different if my name was Stenmark and it was that record being broken." But golfers last a lot longer than ski racers, and unlike Snead's record, Mahre seems certain Stenmark's mark is safe.


Miller won a World Cup combined race in Kitzbuehel, Austria, Jan. 20, passing Mahre with 28 career wins, then followed it up with two more combined victories in Chamonix and Val d'Isere, France, Jan. 27 and Feb. 3 for career wins 29 and 30 - tying him with active Austrian great Benjamin Raich for sixth on the all-time wins list.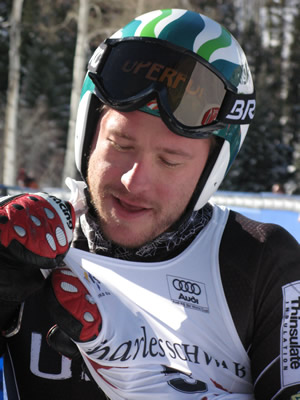 Bode Miller now has 29 career World Cup wins, tied for seventh on the all-time list, and leads the hunt for the overall title.
By David O. Williams

With Mahre versus Miller in his rearview, this season's World Cup has morphed into Bode versus Benni, as the New Hampshire native sets his sights on Raich, 29, his rival in the hunt for the overall crown.


Grabbing his fifth win of the season Sunday put Miller in the exclusive 30-win club, tied with Raich, who has but one win this season (a slalom in Bad Kleinkirchheim, Austria, in December) but four second-place finishes. Miller's fifth win Sunday put him in the hunt for his second overall World Cup title – a feat he last accomplished in 2005.


After Sunday's 28th race of the season, Miller has a 122-point lead over Raich, who won the overall title in 2006. Last season's overall winner, Aksel Lund Svindal of Norway, was injured in a training run at Beaver Creek in December and is still out of action.


But if Miller outduels Raich for his second overall title, Mahre won't even be too impressed with that accomplishment.


"Bode has the chance to win seven or more overall World Cup titles if he wants to, and it's all a matter of whether he can get his head together to do it," Mahre said in a 2004 interview in Vail. "I think he sets out to win it by two seconds, and whether you win it by two hundredths or two seconds, a win is a win, and sometimes you have to back off a little."


That statement was made in the all-or-nothing days of Miller's career when he would wow crowds with edge-of-the-seat runs punctuated by terrifying high-speed recoveries. Just as often, though, Miller would go off course and finish out of the points.


A tech specialist early in his career (14 slalom and GS wins, but all 2006 or earlier), Miller became more of a speedster from 2005 on, winning 11 super-G's and downhills since then. He's now just one speed-event win away from tying retired Californian Daron Rahlves for the title of fastest American on skis.


Rahlves, the third winningest American man of all time with 12 career victories (all downhill and super-G), never won an Olympic medal, but did just grab a Winter X Games gold in skiercross in Aspen last month and is looking for Olympic glory when that sport debuts at the Vancouver Winter Games in 2010.


For Miller, speed-event dominance has made finishing slalom and GS races more of a challenge in recent years. This season, though, he's shown signs of regaining his gate-running prowess, winning a super combined (one run of downhill, one run of slalom) Sunday, another super-combined Jan. 27 and a traditional combined event (one run of downhill and two runs of slalom) Jan. 20.


Sunday's victory gave Miller the super-combined season title, the fourth discipline title of his career - to go along with two super-G and one GS globe.


Despite racing in pain after a downhill training crash Jan. 24 and another tumble Saturday, Jan. 26, in slalom training, Miller showed his new approach on Jan. 27: "The aim in slalom for me is simply to finish. If I take risks, I'm out." Miller won the downhill by a large margin that day, then finished a surprising ninth in the slalom portion.


During his career, Mahre was considered a tech specialist, winning nine slaloms and seven giant slaloms, but he also showed plenty of grit in the downhill, never winning one outright but putting together good enough times to win 11 combined races. He never won a super-G, which was added late in his career (for the 1983-84 season).


That means Miller has had five events to pad his win total, compared to four for Mahre, but Miller will take it: "Before the season, it was my target to break (Mahre's) record (of 27 wins), and it's a really good feeling if you reach your goals."


But Mahre, the only other American man to win an overall crown, tallied three straight (1981-83) – as many as Stenmark – and also collected Olympic gold in the slalom in Sarajevo in 1984. Miller won two silver medals at Salt Lake City in 2002 (combined and giant slalom), but was blanked in 2006 in Torino, Italy, and has said he may not stick around for Vancouver in 2010.


Also still active, and second on the all-time victory list behind Stenmark with 53 wins, is the legendary 36-year-old Austrian Hermann Maier, who is winless thus far this season and has not recorded a regular-season victory since January of 2006. Maier has four overall World Cup titles to his credit.


Local race fans hope Miller, Maier and Raich all at least return to Beaver Creek next season, given that they've combined for 10 wins here (six for Maier, three for Miller and one for Raich) over the past decade.


Mahre also has good memories of Vail-Beaver Creek, which this season celebrated 25 years of World Cup ski racing. In 1983 he won a giant slalom at Vail en route to taking the overall title.


"Ski racing in the U.S. during my career was first introduced in the East and maybe Aspen," Mahre said. "When things changed and moved West, Vail was an active part of the sport. I don't know particular people involved in the movement, but they continue to be involved at the highest level. American athletes need home venues, so whenever a ski area steps in and hosts a World Cup, it's a great benefit to the U.S. skiers."


Comment on "Miller vs. Mahre: debating all-time ski-racing greatness" using the form below