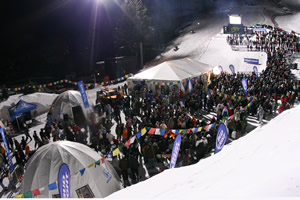 The Honda Session at Golden Peak on Vail Mountain is one of the most progressive snowboarding competitions in the country - and it's free and open to the public.
Special to realvail.com
X-Games gold medalists battle it out at Vail's Honda Session
Slew of top riders take to the rails at Golden Peak
By realvail.com
February 8, 2008 — Fresh off medal-winning performances at the Winter X-Games in Aspen last month, three of the top snowboarders in the world - Andreas Wiig, Torstein Horgmo and Jamie Anderson - will set their sights on the Honda Session Feb. 8-10 at Vail's Golden Peak.


The Norwegian duo of Wiig and Horgmo will come packing gold as Wiig, the defending Bud Light Slopestyle champ, claimed top honors in the X-Games Slopestyle event, while Horgmo out dueled American Kevin Pearce for the Big Air crown.


In addition to Wiig and Horgmo, the 2008 Honda Session field, presented by GameStop, will also include Mason Aguirre, who just missed the SuperPipe medals with a fourth place finish, as well as top Slopestyle finishers Heikki Sorsa and Chas Guldemond.


Lake Tahoe's Anderson, runner-up in Steel & Sky Rails last winter, will also have a golden glow when she returns to Vail, having captured top honors in Slopestyle at the X-Games. Other top female finishers from Winter X on hand will include Jenny Jones, Marie-France Roy and Lizzy Beerman, along with perennial favorite Molly Aguirre.

"When we made the decision to change the dates of the Honda Session to February it was to capitalize on the fact that more top U.S. and international riders were going to already be in Colorado," explained Greg Johnson, director of competition. "With that extra month of hitting big jumps, these guys are going to be stoked to come to Vail and ride the best slopestyle course in the world."


The Session kicks off Friday evening, Feb. 8, with Men's and Ladies' Steel & Sky Rails. Scheduled for a 6 p.m. start for ladies and a 7:15 p.m. men's start, the Steel & Sky Rails course, created by Planet Snow Design, will once again provide the riders with a "skateboard park on snow," allowing them to showcase their talents on a variety of rails and features.


Last year's rails king, Lucas Magoon, will return to defend his title, while Anderson will be looking to ascend to the top step of the ladies podium. With prize money payouts every 15 minutes, the action is bound to be fast and furious in both one-hour sessions.


The big air artists will take flight on Saturday evening, Feb. 9, beginning at 6:15 p.m. as a stellar field attempts to wrestle the Bud Light Slopestyle title away from Wiig. Characterized by four of the largest jumps in the sport, the Bud Light Slopestyle course will also incorporate the Steel & Sky rails venue, combining for a jaw-dropping evening of incredible tricks and huge air.


A year ago, both Guldemond and David Benedek landed 1260's (three and a half rotations in the air) en route to silver and bronze medals respectively. The tricks marked the first time that a 1260 had been successfully performed in a North American slopestyle contest.


The action will come full circle on Sunday, Feb. 10, as amateur riders get their chance to ride the Steel & Sky Rails at the Sunday Session public competition. Slated to get under way at 11 a.m., the Sunday Session competition is for advanced riders and requires a $20 entry fee, with all proceeds benefiting the Snowsports Outreach Society. Prizes include two Vail Resorts 2008-09 season passes and Salomon snowboards.


Beginner and intermediate riders can also take advantage of free clinics from Vail snowboard instructors, with a smaller rails setup in order for participants to get the feel for sliding.


As always, the Honda Base Camp will serve as the nerve center for all Honda Session pre and post competition activities, complete with a GameStop lounge, featuring a variety of gaming consoles, along with live music, a satellite television lounge, board waxing and food and beverages. The Honda Base Camp will open at noon on both Friday and Saturday, with a 10 a.m. opening set for Sunday.


The 2008 Honda Session, presented by GameStop, is a project of the Vail Valley Foundation. For more information on the Honda Session, visit www.sessionvail.com. For additional information on the Vail Valley Foundation, visit www.vvf.org.



Comment on "X-Games gold medalists battle it out at Vail's Honda Session" using the form below