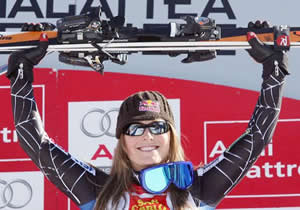 Ski Club Vail product Lindsey Vonn, 23, celebrates a downhill win Saturday on the men's speed course used during the 2006 Winter Olympics in Sestriere, Italy.
Courtesy of the U.S. Ski Team
Vail's Vonn claims 12th career win with downhill victory in Italy
9th downhill triumph ties Street, Rahlves
By realvail.com
February 10, 2008 — SESTRIERE, Italy - Vail's Lindsey Vonn claimed the World Cup overall points lead, tied the U.S. record for World Cup downhill victories and further fattened her lead in the downhill standings Saturday as she won a downhill on the 2006 Olympic men's speed track.


"I'm in a good place now, so I can ski confidently and focus on my run," the Ski Club Vail product said. Rookie Chelsea Marshall, of Pittsfield, Vt., stormed out of the 40th start to finish eighth, her best result ever.


Vonn collected her fifth win of the season and the 12th of her increasingly brilliant career. She was timed in 1:38.86 over the nearly 3K Kandahar Banchetta course, the men's Olympic run two years ago and the site of Hilary Lindh's world downhill title in 1997. Canadian Kelly VanderBeek was second at 1:39.48. Marshall's time was 1:40.03, with Julia Mancuso, of Olympic Valley, Calif., 22nd.


Vonn's performance lifted her to first place overall with 968 points after 26 races. Nicole Hosp of Austria, who was 23rd Saturday, is runner-up with 965. With New Hampshire native Bode Miller also currently leading the overall hunt on the men's side, it's the first time two U.S. skiers have topped the points simultaneously since Phil Mahre and Tamara McKinney won the overall titles in 1983.

Vonn's 12 World Cup victories include nine downhill wins. That ties her with childhood hero Picabo Street and Daron Rahlves. Rahlves also had three super-G wins in his career; Vonn, 23, also has two super-G triumphs and a super combined victory to tie her with Rahlves for 12 career wins, the fourth most ever for an American behind McKinney (18), Mahre (27) and Miller (30).


With three downhills remaining, Vonn has 575 points to 323 for Austrian Renate Goetschl. The last U.S. skier to win a World Cup downhill crown was Street in 1996.


"This was awesome. It was a beautiful day with perfectly clear skies, and the course was awesome. I had a really good run," Vonn said. "It was definitely bumpy in some turns, but I was pretty clean. You had to be clean - you couldn't make mistakes because there's no place to make up for a mistake.


"That's what makes it challenging," she added. "You have to be on it all the way, glide well, make clean turns. You can't afford any mistake."


In posting the fastest time Friday in the final training run, Vonn confirmed in her mind what her line would be: "I knew the key sections and where it was bumpy. And between the first and second jumps [on the lower half of the course] I was able to stay in my tuck. That was definitely important because you can go in there looking for speed in a tuck and get thrown around.


"I'm in a good place now, so I can ski confidently and focus on my run," Vonn said. "My equipment is going well, I've got a good support system, (husband) Thomas is here and I'm really relaxed, and that translates into my skiing. It makes things a lot simpler so I don't have distractions while I'm skiing."


An hour after the race, Marshall said her feet still hadn't touched the ground after her first top-10 result. She was "a little nervous" going into her first training run, but having three training sessions to familiarize herself with the run removed any anxiety.


"It was a little bumpy, but Lindsey radioed up a good course report and my coaches gave me a good report, so I could go for it. There were some gliding sections and a couple of airs that were a lot of fun," Marshall said.


"If you have three training runs [as the women had in Sestriere], it comes down to the skier," downhill head coach Alex Hoedlmoser said. "Chelsea nailed the line right away on the first training run and did a good job today. And Lindsey is pretty much unbeatable now. The only thing that could have beaten her here was herself.


"Lindsey tried to pick it up a notch in the last training run [which she 'won'] and tighten the screws a bit. She picked the line she was going to ski today and she felt comfortable after that last run," he said.


The women run a super-G Sunday and have a slalom Friday in Zagreb, Croatia, before heading to Whistler Mountain, north of Vancouver, to race Feb. 22-24 on the 2010 Olympic course.


Comment on "Vail's Vonn claims 12th career win with downhill victory in Italy" using the form below