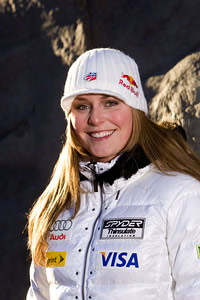 Ski Club Vail's Lindsey Vonn looks to claim her first World Cup globe Friday, Feb. 22, at Whistler, British Columbia. Vonn is poised to take the downhill title and hopes to come away leading the overall hunt as well.

Vail's Vonn sets sights on downhill title in Whistler
Vonn, Miller both look to maintain overall leads
By realvail.com
February 21, 2008 — WHISTLER, British Columbia - When Vail's Lindsey Vonn erupts out of the start house here Friday, Feb. 22, for a women's World Cup downhill, she will be on a dual-purpose mission: clinch the World Cup downhill title, and reclaim sole possession of first place in the overall World Cup standings.


Vonn, who is currently tied with defending overall champ Nicole Hosp of Austria atop the overall points list, feels good about Franz's Downhill, the women's 2.9-kilometer speed run on Whistler Mountain: "It's got everything you want in a downhill," she said.


Tuesday, Vonn led the first training run at the 2010 Olympic alpine venue in the Coastal Range north of Vancouver. Wednesday, she stood up through the bottom of the course, where the snow was softening in warm weather. She finished ninth and was unconcerned, knowing why her time was slow.


The only skier with a chance to overtake Vonn in the race for the downhill globe is Austrian great Renate Goetschl, who must win all three remaining downhills and somehow hope Vonn implodes. The Ski Club Vail product needs just 49 points (fourth place is worth 50) to clinch.

Bristling with confidence from a season in which she has won five times, including four downhills and the lone super combi, Vonn likes Franz's Downhill. The two-time Olympian's thoughts on the run where in two years she hopes to finally claim an elusive Olympic medal:


"The start is pretty slow. The first three turns are tricky because you almost have to side-step. It's hard to make downhill skis turn when you're going about five miles an hour. But it gets pretty bumpy through the next section. There are two big, double turns, then a traverse with a sweeping right-footer [left turn] into the first jump," said Vonn, 23.


"That jump can carry far into a compression, which I've done both (training) days. If you ski that top section well, you get to have quite a bit of speed and land in the compression, which leads to another traverse, a sweeping right turn before you roll into the next jump.


"The roll is the key to carrying speed. You have to give yourself room and be clean over your skis. It falls away and the next jump is pretty far over, so it's an easy place to dump a lot of speed. The next jump - this is the middle of the course - is just before a section we've called Double Trouble - two humps and you can catch air, and into Frog Bank. It's a big banked [right] turn. Apparently they found some endangered frogs in this area, so that's the name it got. Pretty clever.


"From there, we go into some pretty fun, super G-style turns and then into the flats. There's a road - XY Crossing, a kind of a hump and then the bottom, again, is super G-esque turns into the last jump ...


"The lower half is fun. The flats are all fun, nice arcing and flowing turns. I like the way they set it. Something's always happening," Vonn said. "It's a good course."


The women's downhill will be held Friday on the second of four days of men's and women's World Cup races. The action begins Thursday, Feb. 21, with a men's super-G. After that, the event alternates through the weekend between men and women.


The last World Cup races at Whistler were a downhill and super-G early in the 1995 season. Saturday, the men have a giant slalom with that title very much still in play among several racers, and the women conclude the weekend Sunday with a super combined.


Bode Miller, of Bretton Woods, N.H., already has clinched the super combined World Cup title and is leading the overall race with 11 races remaining. Ted Ligety, Park City, Utah, is in the thick of the battle for the giant slalom championship with three events left, including Saturday at Whistler. The top five GS skiers are just 31 points apart; Ligety is fourth.



Comment on "Vail's Vonn sets sights on downhill title in Whistler" using the form below