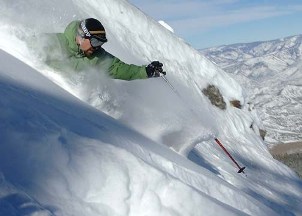 TIME TO SHINE
Frank Shine, of Aspen, tears up some fresh fluff in the Hanging Valley Wall area of Snowmass Mountain.
Dan Davis
trekkerphoto.com
The edgier side of Aspen
Pampering, yes, but plenty of powder and big-mountain steeps
By David O. Williams
December 15, 2005 — ASPEN – If you've ever raced here during World Cup weekend in late November or early December, pulling a double means skiing in both a speed event (super-G) and a tech event (slalom, GS).


And if were part of the media horde covering the event in the hyped-up Olympic season of 2006, pulling a double meant après at Jimmy's followed by late-night at the Red Onion.


For me, pulling a double was part of an exhaustive – and exhausting – research project designed to find out if "Aspen Extreme" is more than merely the title of one of the cheesiest ski films ever produced.

Aspen Extreme
Glitter Gulch gives up the goods
Aspen Highlands
Total acres: 970
Most difficult terrain: 155 acres (16 percent)
Expert terrain: 349 acres (36 percent)
Deep Temerity expansion: New lift nearly doubles the length of South Castle, Kessler's and Soddbuster runs and adds 1,000 feet of vertical below Highland Bowl. Total acreage added after glading and trail work in coming seasons: 270.

Aspen Mountain
Total acres: 673
Most difficult terrain: 175 acres (26 percent)
More difficult: 323 acres (48 percent)


Snowmass
Total acres: 3,128
Most difficult terrain: 375 acres (12 percent)
Expert terrain: 1,000 acres (32 percent)


Lodging: The St. Regis, Aspen, Powder Package includes deluxe guestroom, two lift tickets good at Aspen Mountain, Snowmass, Buttermilk and Aspen Highlands, and breakfast for two at Olives for $425 a night through Dec. 21. Call (888) 454-9005 or go to www.stregis.com/aspen.
For other lodging options contact central reservations at www.stayaspensnowmass.com or call (888) 649-5982.


Spa: The Remede Spa at the St. Regis recommends the Athlete's Relief Package or a custom massage after pushing the limits on Aspen's steeps. Call (970) 920-6783 or go to www.remede.com.



My double took the form of a foray into the Hanging Valley Wall area of Snowmass, just opened for the season, and later that day an exploration of Aspen Highlands' new Deep Temerity expansion.


In between watching the fastest women on skis carve the ice of Ruthie's Run, I was on a quest to find the steeps that made one local scoff when I repeated the old axiom "Aspen's got the town, but Vail's got the mountain."


I'm the first to admit my home hill of Vail, while epic in terms of both size and diversity, sometimes lacks when it comes to steeps – like on a two-foot powder day.


And while I'd in the past sampled some of what two of Aspen's four mountains have to offer - charging hard at Highlands and exploring Aspen's Bell Mountain on occasion - I'd heard rumors of so much more.


My quest began shortly before 9 a.m., Dec. 10, 2006, at the Snowmass Village Mall, where I met Frank Shine, 31.


Shine is a self-professed ski bum, ski film producer, ski tuner and big-mountain skier (a term now part of the preferred nomenclature owing to the disfavor of anything "extreme," even though that label is permanently affixed to Aspen's signature event, the X Games).


On the chair ride up I told Shine, who took second in the previous season's Snowmass Freeride Series, my impression of his home hill – a mountain I'd never skied – as a wide-open, immaculately groomed playground for the rich and famous but not necessarily the most challenging of areas.


"That perception is out there and it's correct because we have all those things but it will be an interesting study today … after four or five hours to see what your impression is," Shine said with a knowing smile.


"You're still going to have that impression but hopefully we can just add on top of that some icing for skiers who ski on skis over 100 millimeters under foot and like to jump off of rocks and make technical turns."


I glanced nervously at Shine's Volkl Sumos, the fattest of fats, and wondered what awaited in the Hanging Valley Wall area, which we'd selected first instead of awaiting the rope-drop at Highlands, where we anticipated a land rush for first turns in Temerity.


After a short, 10-minute hike from the top of the High Alpine lift I found out what Shine was talking about. "The Wall," as the locals call it, is a steep, fluffy, natural terrain park loaded with rock bands, tree shots and plenty of places to become seriously airborne.


"Snowmass has the best terrain in the valley," said Pat Doyle, 38, who splits his ski days throughout the season a third each at Snowmass, Highlands and Aspen Mountain. "It's got more terrain features, more rocks, more undulations."


But Doyle also sings the praises of Highlands, particularly the Highland Bowl expansion that opened a few years back, which has been enhanced by the new Deep Temerity lift.


"Pretty much everything in the bowl is consistently over 40 degrees the entire way with rollovers I'm sure approaching 50 in spots and that's legitimate, not like what they're claiming in the first top four feet at some of the places you ski," Doyle said.


"It's unique in that you can ski really fast, really big, almost Alaska-type turns in there if you choose to. You can't do that too many places in Colorado, at least when it's steep. You can do that (in the Back Bowls) at Vail but it's pretty flat there."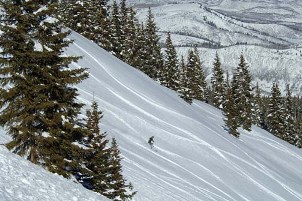 STRAW MAN The author finds some fine lines in the Strawberry Park section of Snowmass's Hanging Valley Wall.


Rather than take Doyle's word for it my quest moved onto Highlands via Aspen's free shuttle service. There I found most of the crowd had filled up on powder and moved to the deck at Iguana's to chase face shots with beers and tell tales of their exploits.


I dutifully headed up Exhibition to the Loge Peak lift and jumped into the super-steep Steeplechase area, which has now doubled in length with the addition of Deep Temerity lift, and while the freshies were long gone, the snow was still soft and the lines through the trees were long, steep and exhilarating.


I rejoined the crowd at Iguana's to tell my own tales and listen to theirs'.


"It was like a whole new mountain," said Sheryl Barto, of nearby Basalt. "It feels totally different. To get to ski further down into the Steeplechase terrain and into Kessler's, Temerity, it was unbelievable."


Beth Mobilian, also of Basalt, echoed Barto's enthusiasm: "To be in your hometown and ski something brand-new. It's exciting."


Rich Burkley, general manager of mountain operations for all four mountains, circulated amongst the crowd, assessing the overall opening-day mood: "The feeling here at the base was they're the junkies and we've got the fix." An interesting allusion given Aspen's recent round of drug busts, but unquestionably a healthier addiction.


To me, though, the beauty of Aspen manifested itself on my return to town, where some of the state's best restaurants and most luxurious hotels nestle up to the flanks of Aspen Mountain.


My research concluded that Aspen is in places just as steep as Silverton or even the heli camps of Alaska but with accommodations that far outstrip the remodeled canneries or budget motels in those places.


The St. Regis, Aspen, for instance, boasts some of the finest service in the Rockies but also serves as the press center for the World Cup races and is just steps from Silver Queen Gondola and the steep and deep of Aspen Mountain.


But pulling a triple wasn't in the cards. That's a research project for another day.


Comment on "The edgier side of Aspen" using the form below