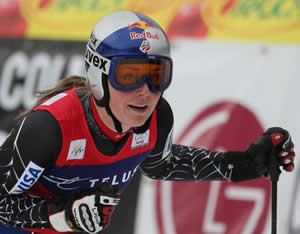 Ski Club Vail's Lindsey Vonn reacts to finishing second in a downhill at Whistler Friday, a result that secured her the season downhill title on the World Cup circuit.
Courtesy of the U.S. Ski Team
Vails Vonn clinches World Cup downhill title
Second place at Whistler makes Vonn second American to secure season speed title
By David O. Williams
February 22, 2008 — WHISTLER, British Columbia - Ski Club Vail's Lindsey Vonn shook off flat light to become the second U.S. skier to win a World Cup downhill title Friday, finishing second in a Whistler downhill won by one-hundredth of a second by Switzerland's Nadia Styger's.


The 2006 Olympic GS gold medalist, Julia Mancuso, of Olympic Valley, Calif., completed the podium in third place. Austrian Renate Goetschl, who was fifth, needed to win the last three downhill races to have a shot at the downhill globe.


Vonn only needed to be fourth in one race to clinch the crown, the first and only downhill season title by a U.S. skier since Vonn's mentor, Picabo Street, claimed the globe in 1996. The second place for Vonn comes on the course where the 2010 Olympic downhill will be decided during the Vancouver Winter Games.

Vonn also reclaimed the points lead for the overall title, which only one other American woman has ever won (Tamara McKinney in 1983). With nine races remaining this season, Vonn, who has five wins so far, has 1,063 points to 999 for defending champion Nicole Hosp of Austria, who was 15th in the downhill Friday.


"It's amazing I won the trophy," Vonn said. "It's been a dream of mine since I was a kid to win. It's been a long time coming. The last two years I was really close - injuries last year and mistakes the year before, so I'm really happy with the way it's finally done."


Styger's winning time was 1:45.30, with Vonn finishing in 1:45.31, scrubbing time on the last big turn before the final jump when she skied too straight into the turn. Mancuso finished in 1:45.49.


"The light was so flat and it got really bumpy in some sections," Vonn said. "I came out of a right-footer [left turn] and was going too straight, so I started my turn too early on that last left-footer, and I lost it all.


"One-hundredth is so annoying because it's so close. I'd rather lose by a tenth, but I'm happy I won the downhill title. That's really good and it's really important to me."


Comment on "Vails Vonn clinches World Cup downhill title" using the form below