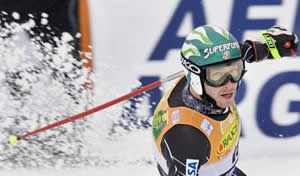 Bode Miller eyes the scoreboard Saturday after turning in the winning time on a course that has never been kind to him: the 1994 Olympic downhill course at Kvitfjell, Norway.
Photo courtesy of the U.S. Ski Team
Miller, Vonn move closer to overall World Cup titles
Miller claims downhill in Norway; Vonn benefits from slalom, GS cancellations
By realvail.com
March 2, 2008 — New Hampshire native Bode Miller picked up 260 World Cup points over the weekend in Kvitfjell, Norway - scene of Tommy Moe's 1994 Olympic gold medal victory - perhaps propelling Miller to more American ski-racing glory.


Unlike last season, when he faded down the stretch and succumbed to a variety of nagging injuries, Miller, 30, is gaining momentum in March, perhaps owing somewhat to the fact that he now races independently for Team America, training and traveling with his own coaches and workout facility in a modified bus.


By winning one downhill (100 points) in Norway and finishing second in another downhill and a super-G (80 more points each), Miller put a substantial gap between himself and his nearest rivals in the race for the overall title.


With six races remaining in the season Miller has 1,363 points to 1,178 for Switzerland's Didier Cuche, who took over second place after Saturday's downhill, relegating Austrian Benjamin Raich is third with 1,073 points. Raich, a technical specialist more proficient in slalom and giant slalom,failed to score points in either downhill and was only 16th in Sunday's super-G.


The men's World Cup now heads to Kranjska Gora, Slovenia, for a slalom and giant slalom March 8-9 (critical races for 2006 overall winner Raich), and then the World Cup Finals March 12-19 in Bormio, Italy.


In Bormio, all four disciplines will be contested by both the men's and women's teams. Miller won a downhill there in December and now has six wins this season (three downhills, two super-combined races and a traditional combined).


By winning Saturday in Norway, Miller posted his 31st career win, moving him out of tie with Raich and all alone into sixth place on the all-time victories list behind only Ingemar Stenmark, Hermann Maier (still active but winless this season), Alberto Tomba, Marc Girardelli and Pirmin Zurbriggen. Raich, now alone in seventh all-time, has just one victory so far this season.


Miller, who has one overall title to his credit (2005), has claimed the super-combined discipline title already this season and is now within five points of Cuche for the downhill title with only the Bormio downhill remaining on the schedule. He told the Associated Press he is still not focusing on his second overall title.


"We have to wait and see. There are seven races left - that's a lot of points," Miller told the AP after Saturday's win. "You can never count Benny out in the overall. When I get on the course, the last thing I'm thinking about is the overall. I just push it. If I push it too hard, I can easily make mistakes and go out. If you go out . no points."


The only other American man to win the overall title - considered by most ski racers the ultimate test in skiing because it requires an entire season of consistent success - was Phil Mahre, whom Miller passed on the all-time victory list this season.


Mahre won three straight overall titles in the early 1980s, including the 1983 season when he and fellow American Tamara McKinney both claimed the overall crowns. This season marks the first time since 1983 that two Americans have led the overall hunt.


Ski Club Vail's Lindsey Vonn has a slimmer margin in her quest for the overall title but got a big boost over the weekend when technical events were cancelled due to foul weather in Zwiesel, Germany. Vonn leads last season's overall winner, Austrian Nicole Hosp, by 54 points heading into a downhill and a super-combined March 8-9 in Crans Montana, Switzerland, and then the World Cup Finals in Bormio.


Hosp is a tech specialist who likely would have gained ground on speed-specialist Vonn in Germany, but the races will not be made up. After missing the podium or a win by .01 seconds five times this season, including a recent downhill in Whistler, British Columbia, Vonn said she views the cancelled weekend as a little retribution.


"It's tough when you miss out by a hundredth, let alone miss out by a hundredth five times in the same season, but it comes back around. I would rather have raced the full season, but you can't control the weather," said Vonn, who already has claimed the downhill title this season, only the second American woman to accomplish that feat since Picabo Street did it in 1995. McKinney is the only American woman to have won the overall crown.

1 Comment on "Miller, Vonn move closer to overall World Cup titles"