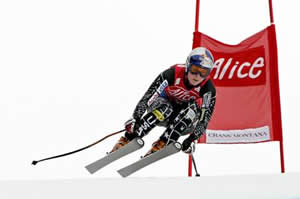 Lindsey Vonn of Ski Club Vail claimed her 10th downhill win Saturday in Switzerland.
Courtesy of the U.S. Ski Team
Vail's Vonn claims 10th downhill win
Ligety wins second World Cup race, moves into overall GS lead
By realvail.com
March 8, 2008 — CRANS-MONTANA, Switzerland – Ski Club Vail's Lindsey Vonn increased her overall World Cup lead with the 10th downhill win of her already storied career Saturday, passing Picabo Street and Daron Rahlves on the all-time American downhill victory list.


Vonn's dominant win – the 13th World Cup victory of her career and sixth so far this season – besides making her the best American speed-event skier of all time, also increased her overall lead to 150 points over Austria's Nicole Hosp (27th Saturday) and 177 over Germany's Maria Riesch (fifth Saturday).


"It's incredible," Vonn said of passing speedsters Rahlves and Street, both of whom retired with nine downhill wins. "I was just excited to be tied with Picabo and Daron before. Now to have broken the record is incredible. It's a dream come true and I couldn't have asked for more. I'm extremely honored."

An hour later in Kranjska Gora, Slovenia, Park City's Ted Ligety, a gold medalist in combined at the 2006 Winter Olympics, won only the second World Cup race of his career, a giant slalom in which independent racer Bode Miller of New Hampshire was 11th in his bid to win the second overall title of his career.


Miller scored enough points to keep his closest overall competitors – Switzerland's Didier Cuche (sixth on Saturday) and Austria's Benjamin Raich (fourth on Saturday) – at bay heading in Sunday's slalom and then the World Cup Finals in Bormo, Italy, beginning Wednesday.


Ligety's win vaulted him in the giant slalom discipline lead by 27 points with one GS left to race (in Bormio). All four disciplines – downhill, super-G, GS and slalom – will be raced by both men and women in Bormio. Miller has already won the combined title, and Vonn has already claimed the downhill globe with five wins so far this season.


Both are vying to become the first American overall winners in the same year since Phil Mahre and Tamara McKinney accomplished the feat in 1983. Mahre (three times in the early 1980s) McKinney (once in 1983) and Miller (in 2005) are the only Americans who have ever won the overall title. Ligety and Vonn's wins Saturday mark the first time two Americans have both topped the podium on the same day since Vonn and Miller did it on Dec. 20, 2006.


For Ligety, who has been tantalizingly close several times this season, Saturday's win was a big breakthrough on a hill he loves. He also considers it one of the best slalom hills on the circuit.


"It's nice for sure," Ligety said of the win. "It's been a long time coming since my last two victories (at the Olympics and then a month later on the World Cup circuit in South Korea), so this is sweet. I've had a lot of podiums (top-3 finishes), but have been missing a win. This is almost as special as the gold medal because it's so much harder to get a World Cup victory."


Comment on "Vail's Vonn claims 10th downhill win" using the form below