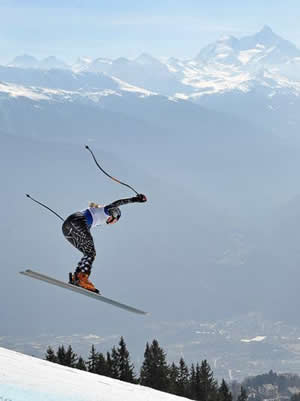 Ski Club Vail's Lindsey Vonn, soaring to third place in last Sunday's combined event in Switzerland, controls her own destiny in the overall World Cup chase heading into Wednesday's final downhill in Bormio, Italy.
Courtesy of the U.S. Ski Team
Vail's Vonn races into record books
Vonn, Miller in overall lead heading into World Cup Finals this week in Bormio
By David O. Williams
March 11, 2008 — Vail's Lindsey Vonn wasn't alive the last and only time two Americans finished a World Cup ski-racing season as the best male and female racers in their sport.


But Vonn, a 23-year-old Ski Club Vail product who now makes her home in Park City, Utah, and New Hampshire's Bode Miller, who races independent of the U.S. Ski Team, both head into Wednesday's finals in Bormio, Italy, with very good shots at claiming overall World Cup titles.


Vonn, who on Saturday won her sixth race of the season and 13th of her career, appreciates the history. As she chases Tamara McKinney, the only other American woman to win the overall (in 1983), Vonn seems in awe of what she's accomplishing.

World Cup Finals, Bormio, Italy
Wednesday, March 12 - women's downhill (men's downhill cancelled)

Thursday, March 13 – men's and women's super-G


Friday, March 14 – men's giant slalom; women's slalom


Saturday, March 15 – men's slalom; women's giant slalom


Sunday, March 16 – team competition
Got to World Championship Sports Network for a complete schedule and viewing information.

"I've dreamed about being a great ski racer since i was a little kid," said Vonn, whose 10th career downhill win in Crans-Montana, Switzerland, Saturday broke the U.S. mark of nine, jointly held by Picabo Street and Daron Rahlves. "I just didn't think it would happen so quickly. I honestly don't know how I'm doing it, but it seems to be working. It's definitely a surreal feeling."


Vonn currently leads the overall chase with 1,263 points to 1,106 for Maria Riesch, of Germany, and 1,085 for Nicole Hosp, of Austria. Starting Wednesday, the men and women were scheduled to conclude the season by racing all four disciplines – downhill, super-G, giant slalom and slalom – with 100 points available for every win (80 for second, 60 for third, and so on).


Miller, the only American other than Phil Mahre to win the overall title (in 2005), leads Switzerland's Didier Cuche by a margin of 1,387 to 1,218, with Austrian Benjamin Raich in third with 1,123. Mahre won the overall three straight years in the early 1980s, including the same year at McKinney in 1983.


But Miller, who has won six races this season, including a downhill at Bormio in December, lost the chance to win the season downhill title Tuesday when the men's finals downhill was cancelled due to the scrubbing of the training run because of warm temperatures and soft snow conditions.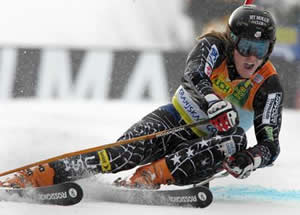 Ted Ligety of Park City, Utah, shown here winning a giant slalom Saturday in Slovenia, has a shot at the World Cup GS title in Bormio, Italy, this week.
Courtesy of the U.S. Ski Team

International Ski Federation rules mandate at least one training run for a World Cup downhill, therefore Wednesday's downhill was cancelled and won't be made up, handing the season downhill discipline title to Cuche by a margin of five points over Miller. The overall chase points remain unchanged, and the women got in a training run Monday, so they will still race downhill Wednesday.


Miller has had great success in Bormio speeds events, sweeping them at the 2005 World Championships. Ironically, Miller won the 2004 giant slalom discipline title the same way he lost the 2008 downhill title, with the race being cancelled before the second run due to fog. Miller had skied out in the first run with Kalle Palander of Finland poised to pass him for the title.


Still, even with Miller losing out on the downhill points Tuesday, he controls his own destiny in the overall title hunt and other racers expect he'll still grab the overall globe.


"I'm super excited for this," said 2006 Olympic gold medalist Ted Ligety, or Park City, Utah, who won his second career World Cup race Saturday and heads into the finals leading Raich for the giant slalom title by 27 points."With Bode and Lindsey doing as well as they have this year, I'm definitely looking forward to watching both of them wrap it up. It's cool."


Both Miller and Vonn are better speed event (downhill and super-G) racers, but can score points in the tech disciplines (slalom and GS), where their nearest Austrian rivals (Hosp and Raich) excel. Riesch and Cuche are both better all-around skiers, although Cuche typically does not race slalom.


Miller this season passed Mahre to become the most victorious American ski racer ever with 31 World Cup wins (good for sixth on the all-time list). Mahre is second in U.S. history with 27 wins, followed by McKinney with 18, and now Vonn with 13 – making her the fourth-best American in terms of career wins.


But Vonn acknowledges that number is a far cry from the great Europeans such as Austria's Renate Goetschl, second Saturday in the downhill Vonn won but winless so far this season. Goetschl is third on the all-time list with 46 career victories, 24 of them downhills. The all-time women's leader is Austrian Annemarie Moser-Proll, who won 62 races between 1969 and 1980.


"(Saturday) making some American history is extremely exciting, but it definitely puts things in perspective when you look at Goetschl, who has 24 downhill wins and (Moser-Proll) with 62 wins," Vonn said. "I have a long ways to go, but I'm only 23, and to be breaking records at this point is pretty amazing, and I think it's only going to get better. Over the next couple of years I'm going to set my sights on Renate and Proll."


Ligety, also only 23, was just happy to get his second career World Cup win Saturday. After winning an Olympic gold in the combined at the 2006 Winter Olympics in Torino, Italy, at the age of 21, Ligety quickly followed up with his first World Cup win in a giant slalom in South Korea a month later. But since then he's posted a slew of podiums (top 3) but no wins.


"My Olympic victory came early in my career," Ligety said. "I was only 21 and it kind of came as a shock, and this one (Saturday's GS win in Slovenia) I've been struggling for two years to get. In a sense this is definitely a harder victory to get. And the combined is kind of the step child event, so it's not always the most prestigious event to win. I'd much rather win a giant slalom race any day."


Comment on "Vail's Vonn races into record books" using the form below