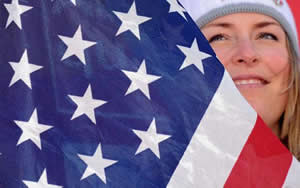 Ski Club Vail's Lindsey Vonn shows her true colors Thursday after finishing second in the World Cup Finals super-G in Bormio, Italy, all but locking up the overall title with two races remaining.
Courtesy of the U.S. Ski Team
Miller wins second overall title; Vail's Vonn a virtual lock
Vonn second in finals super-G to all but guarantee overall title
By realvail.com
March 13, 2008 — Vail's Lindsey Vonn saved her best super-G in over a year for World Cup Finals, finishing second Thursday in Bormio, Italy, and virtually locking up the overall World Cup title.


Vonn's finish eliminated defending champion Nicole Hosp of Austria from contention and left the Ski Club Vail product 197 points ahead of German Maria Riesch with two events remaining. Vonn only needs to score three points in Friday's slalom or Saturday's giant slalom to claim the title no American woman has won since Tamara McKinney claimed it in 1983.


Meanwhile, independent racer Bode Miller of Franconia, N.H., locked up his second overall title by finishing 12th in Thursday's super-G, ahead of his nearest pursuer, Didier Cuche of Switzlerland, who finished 16th and just out of the points. Cuche then announced he would not race in Saturday's slalom – an event he hasn't competed in all season – handing the overall title to Miller.

If Vonn finished in the top 15 in Friday's slalom, admittedly her worst event, she and Miller will become the first Americans to hold the overall titles in the same season since McKinney and Phil Mahre did it in 1983. Mahre won the overall three times in the early 1980s, and he and McKinney are the only other Americans to ever have claimed ski racing's most difficult title.


Vonn shocked the field in Thursday's super-G, coming down 15th and taking the lead in an event in which she has struggled all season. Riesch, the World Cup super-G leader, couldn't match the American and eventually finished sixth. Only Swiss Fabienne Suter was able to knock Vonn out of the winner's spot to take her second career super-G win.


"It was definitely a good time to pull through in super-G," said Vonn, 23. "I've been working with Rossignol on my skis and it paid off. We did some testing before Crans-Montana (Switzerland, last weekend) and I changed my ski setup around a little bit. And my skis were really fast today."


The course was rugged and soft after a stretch of warm weather that forced the cancellation of both the men's and women's downhills Wednesday, but Vonn was happy with her tactics.
"My goal was to ski solid and not risk a lot, just to stay ahead of the course," she said. "I was active and aggressive with the way I skied. But I kept my line conservative in places. It was cool that we were able to run the men's course."


While a win would have wrapped up the overall title for Vonn mathematically, she still has a virtual lock. Riesch is the only remaining contender. The German would need to win both Friday's slalom and Saturday's GS and Vonn would have to finish out of the top 15 in both races. Vonn can clinch it herself with a single top 15 finish in one of the two remaining events.


But the mathematics are just a formality. Both Hosp and Riesch congratulated Vonn in the finish as the new World Cup champion.


"Nikki came up to me in the winner's circle to congratulate me on a great season," said Vonn. "She was really, really nice. She was a very gracious champion today and that was cool. Maria also congratulated me on the overall and I did the same for her on the super-G title."


The U.S. Ski Team's Julia Mancuso, Olympic Valley, Calif., who was in the overall chase last season before fading down the stretch, was seventh Thursday, with Stacey Cook, Mammoth Mountain, Calif., 13th, matching her best finish of the season.


Vonn on Friday will race in her most challenging discipline, slalom, where she has not cracked the top 15 all season. However, Vonn was fourth fastest in her last combined slalom outing, and she has 10 career top 15 slalom finishes. Riesch, meanwhile, has not had a top 15 GS this year, but was on a slalom podium.


Also on Friday, American Ted Ligety, a 2006 gold medalist at the Torino Winter Olympics, goes for season GS title, a chase he leads over Austrian Benjamin Raich by 27 points.


Comment on "Miller wins second overall title; Vail's Vonn a virtual lock" using the form below