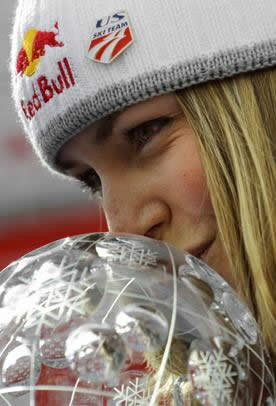 Vail's Lindsey Vonn, shown here sharing a close moment with the World Cup downhill globe, claimed "The Big Globe" Friday when she finished 11th in the final slalom of the year and won the overall World Cup title.
Courtesy of the U.S. Ski Team
Vail's Vonn wins it all; claims overall World Cup title
Park City's Ligety wins final GS to take season title
By realvail.com
March 15, 2008 — BORMIO, Italy – Vail's Lindsey Vonn turned in her best slalom race of the season Friday, finishing 11th and grabbing enough points to clinch the World Cup overall title - only the second ever for an American woman.

Vonn rallied from a first run finish of 25th to win the second run by a .19 margin and become the first American woman to win the World Cup overall title since Tamara McKinney did it in 1983.

"Today was a great way to close it out and have a really good slalom second run to finish out the season strong," Vonn said. "During my first run, the snow was so slow and I was pretty bummed out about it. I looked at my starting number and realized I had to punch back in there and that's what I did."

Also on Friday, 2006 Olympic gold medalist Ted Ligety, of Park City, Utah put down the fastest second run time to win the final giant slalom of the season, clinching the World Cup GS title and grabbing his third career World Cup win.

For Vonn, who needed only three points in the final two races to clinch the overall and match independent American Bode Miller (who locked up the men's overall Thursday), the slalom was the most unlikely race to make it happen. She admits it's by far her weakest event.

"Lindsey had a pretty bad starting position for the first run and the snow conditions were really soft, so in that run she had no chance to do well," said Coach Alex Hoedlmoser. "She was hoping to do well in the second run. She just went out there and had a great run.

Austrian Marlies Schild won the women's slalom, sealing her claim on the World Cup slalom title.

Though it was almost certain that Vonn would end up taking the overall title after finishing second in the super-G finals Thursday, she waited until the title was hers officially to try to take it all in.

It's awesome. I kind of knew yesterday that it was over, but I didn't want to celebrate too early," Vonn said. "First of all, I can't believe I won the downhill, and secondly, it's not even in my realm right now to fathom that I won the overall. Tomorrow when I get the crystal, I think it will set in."

Her coach was equally awestruck.

"This is huge. Of all the small globes, the downhill title (which Vonn also won) is the biggest one because it means you are the fastest skier in the world, and that's huge. It was our goal this year," Hoedlmoser said. "Now, having the overall in addition, it's not really something you can predict. She did fantastic in all the other events, too, in order to attain that [overall title]. It's pretty much one of the biggest things that can happen in skiing and she did it."

At a young age, Vonn showed she had the potential to develop into a great athlete, but it was a chance encounter with idol Picabo Street, who won two downhill World Cup globes ('96 and '95), that gave a kid from Minneapolis the inspiration she needed to become the best in the world.

"I've always wanted to win the downhill title because that's what Picabo did. She was always my idol growing up" said Vonn, 23. "Winning it was a very special time for me and today I'm winning the overall."

A competitive skier from the time she was a young girl, Vonn grew up skiing on Buck Hill, a tiny ski area just outside of Minneapolis, where she first fell in love with ski racing. Her family moved to Vail in the late 1990s so she could get serious about ski racing.

"I want to succeed in ski racing and I always have since I was a little kid. I have a lot of fun ski racing and I don't ever have a problem finding motivation," Vonn said.

"She has put her whole life into this. She's always working extremely hard. It takes years of experience and it's not easy especially if you want to win an overall title. She's really young to have done that," Hoedlmoser said. "She's done everything she can in practice, in training, and in her whole life to get there. She has that goal and she's just going to go for it."



Comment on "Vail's Vonn wins it all; claims overall World Cup title" using the form below