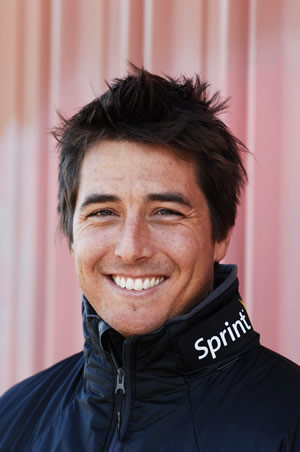 Olympic gold medalist Jonny Moseley.

Moseley mute grabs some Olympic glory on memory lane
Gold medalist in moguls recounts return to Nagano for 'Mosewalds vacation'
By David O. Williams
April 12, 2008 — Hard to believe it's been more than a decade since Jonny Moseley shook up the freestyle skiing world with an Olympic gold medal-winning performance in Nagano, Japan, in 1998 - a tour de force that included his pioneering 360 mute grab.

Moseley, a mogul skier who rode that wave of fame to an Emmy award-winning performance of the trick on Late Night With David Letterman and a Jonny Moseley Day Parade thrown by Mayor Willie Brown in San Francisco, sounds like he too has a hard time believing it's been 10 years.

In Vail to host the April 12 (2-4 p.m.) Bacardi World Pond Skimming Championships at Golden Peak, Moseley recounts a return trip to Nagano with his family this past winter:
"I really was not feeling much sentiment when I went over there," Moseley said. "I didn't know when it would hit me, because it felt like the Mosewalds vacation in Japan, but when I got on that chair that was built just for the event, that's when it hit me.

"I just remember thinking, 'Holy shit, this is the Olympics and how am I going to hold this together?'" he said of his first trip up that same lift 10 years ago. "You spend so much time, so much of your whole life, trying to execute for 30 seconds."

Execute he did, wowing the judges and setting the stage for the 2002 Winter Olympics in Salt Lake City, Utah. Moseley finished fourth there, throwing his now-famous "Dinner Roll" maneuver, which was as close as he could come to inverted air in a sport that at the time banned going upside down.

The hometown crowd loved the move but the judges were inexplicably unimpressed, relegating him to fourth - just outside of the medals. He likely earned as much publicity with the ensuring controversy as another gold would have gotten him - hosting Saturday Night Live soon after the Games - but the judging debacle still irks him.

"It wakes me up at night; I'm still pissed," Moseley said of missing out on a medal in '02. But he said it was worth it in order to push the boundaries of the sport, which a year later would relent and allow inverted aerial maneuvers in mogul competitions. "When you're already sitting on a gold, it's a little easier to think that way."

In fact, the sport may have gone too far over to the aerial side. After winning a bronze in moguls at the 2006 Winter Olympics in Torino, Italy, Vail's Toby Dawson said the sport was almost becoming an aerial competition with a few bumps thrown in for good measure.

Regardless, Moseley - now 32 and married, with a young son - has discovered a new discipline on skis: pond skimming.

"I'm all warmed up because I just MC'd the Steamboat pond skimming (last weekend), and it was a huge success," Moseley said before Saturday's event in Vail. "Considering I've done one pond skimming event, I'm over-qualified."

But hosting and announcing pond skimming - in which skiers and snowboarders fly down a slushy slope and try to ski or ride across a pond of icy water - and actually participating in pond skimming are two different things.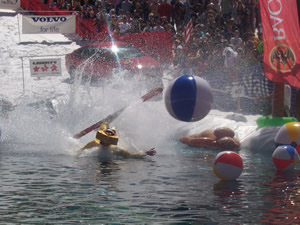 Olympic medalist Jonny Moseley is now an expert at announcing pond skimming competitions like this one at Vail.


"I still have yet to do a pond skimming, I'm embarrassed to say," Moseley said. "I was planning to do it at Steamboat but it came to an end quickly and I was on the mic and I lost the chance."

Asked if he would get in his first skim in Vail, Moseley said he'd have his Head mid-fats at the ready, but "I want to leave it open and leave some mystery. I very well could be launched into a sloppy Dinner Roll if I was to dig a rail going into it - a Dinner Roll with melted butter on it."

The pond skimming championships at Vail are followed by a concert with Ben Harper in Ford Park, all part of the annual Spring Back to Vail celebration. Go to www.springbacktovail.com for more information.

Comment on "Moseley mute grabs some Olympic glory on memory lane" using the form below