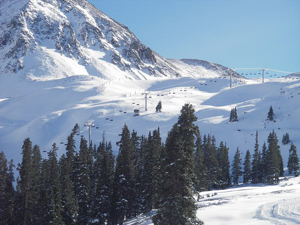 Arapahoe Basin will likely be the last resort in the nation to close on or around June 8 of this year. Most of the remaining resorts close this coming Sunday, April 27.
Photo courtesy Arapahoe Basin resort
A-Basin, Loveland, Aspen Highlands, Echo Park, Wolf Creek and Silverton still open this weekend
Employees of any resort in America can get $12 lift tickets at Highlands this weekend
By Tom Boyd
April 25, 2008 — Some say the desire to ski or ride wanes with the coming of spring.

Up at Aspen Highlands, they may beg to differ. The resort had its biggest day of the year in terms of skier/rider numbers as more than 3,000 people made their way onto the hill Saturday, April 19.

Aspen Highlands is one of six ski and ride areas still open for the season. Here's a look at what's open and what to expect when you get there:
Aspen Highlands: Yes, Highlands Bowl will be open and the snow cat will be operating when the mountain re-opens for its final weekend April 26-27. The mountain was operating 4 of 5 lifts this past weekend, and will open and close lifts according to conditions this coming weekend. Frontier Airlines is offering a flight into the Aspen airport, and lodging can be had in Snowmass for as little as $30 a night and in Aspen for as little as $38 a night. Lift tickets are $39 for adults and if you're an employee at any resort in America (yes, even including Vail) you can get a ticket for $12.

Aspen Highlands will also host bands from noon to three. On April 26 it's Smokin' Joe and the Gypsies, and on April 27 it's The Pavers.

A-Basin: This legendary resort is planning on staying open every day until June 8, weather permitting, which will make it the last resort in the nation to close this season. They are currently 100 percent open and the snow, according to marketing director Leigh Hierholzer, is still great.

"We've still got good coverage, and now that that weather's getting a little warmer down at lower elevations it's spring conditions," she said. "Up top, it's still pretty much mid-winter. It's just a really good snow year."

Tickets are now $49 for adults and $25 for kids. On May 18 the lift ticket prices will drop.

Loveland: Summit County musical legend Arnie J. Green will play his annual end-of-the-season gig at Loveland Ski Area when the mountain closes May 4. The beginner area, dubbed "The Valley" is closed on weekdays, but on weekends the entire resort ought to be open through closing day. Loveland averages 400 inches of snow per year, and received 402 this year, so resort representative John Sellers said that, "when the sun comes out it's nice and warm, the snow softens up, and it makes for some great spring conditions."

Lift tickets at Loveland are $40 for adults and $20 for children.

Wolf Creek: With 492 inches of snow to date, Wolf Creek is once again at the top of the snow-total heap and will be celebrating during its final weekend of operation April 26-27. Lift tickets will be $27 for adults and $16 for children and seniors.

Echo Mountain: This terrain-park resort, which thrives on its proximity to Denver, will be open Thursdays through Sundays until May 4. Their "Last Park Standing" party on May 4 will give away $12,000 in cash and $4,000 in prizes during an amateur rail jam festival which includes live music and a sponsor village. Lift tickets are $39 and a season pass is $279.

Silverton Mountain: This burly mountain offers a kind of heli-skiing experience with guided skiing only from January 17 to March 30. April 4 through April 27, however, unguided skiing returns. The resort is planning on opening for the last time this season April 26-27. Lift tickets for unguided skiing are $49 per day, or guided skiing (which is still available) is $99 per day, or by-the-run for $35 plus lift ticket.

Comment on "A-Basin, Loveland, Aspen Highlands, Echo Park, Wolf Creek and Silverton still open this weekend" using the form below