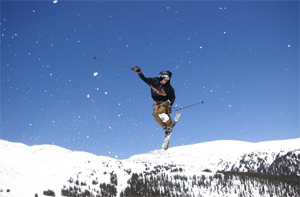 Loveland is one of three remaining resorts where skiers and riders can get a quality sample of Colorado's spring conditions.
Photo courtesy Loveland Ski Area
skiloveland.com
And then there were three: A-Basin, Loveland, and Echo Park
Three resorts keep lifts operating as mountain snowpack remains strong
By Tom Boyd
April 28, 2008 — Aspen Highlands, Silverton, and Wolf Creek enjoyed their final weekends of skiing and riding this past weekend, leaving only Arapahoe Basin, Loveland, and Echo Park open for the remainder of this season.

Here's a look at what's on tap for those resorts this spring:

A-Basin: This legendary resort is planning on staying open every day until June 8, weather permitting, which will make it the last resort in the nation to close this season. They are currently 100 percent open and the snow, according to marketing director Leigh Hierholzer, is still great.
"We've still got good coverage, and now that that weather's getting a little warmer down at lower elevations it's spring conditions," she said. "Up top, it's still pretty much mid-winter. It's just a really good snow year."

Tickets are now $49 for adults and $25 for kids. On May 18 the lift ticket prices will drop.
Loveland: Summit County musical legend Arnie J. Green will play his annual end-of-the-season gig at Loveland Ski Area when the mountain closes May 4. The beginner area, dubbed "The Valley" is closed on weekdays, but on weekends the entire resort ought to be open through closing day. Loveland averages 400 inches of snow per year, and received 402 this year, so resort representative John Sellers said that, "when the sun comes out it's nice and warm, the snow softens up, and it makes for some great spring conditions."

Lift tickets at Loveland are $40 for adults and $20 for children.

Echo Mountain: This terrain-park resort, which thrives on its proximity to Denver, will be open Thursdays through Sundays until May 4. Their "Last Park Standing" party on May 4 will give away $12,000 in cash and $4,000 in prizes during an amateur rail jam festival which includes live music and a sponsor village. Lift tickets are $39 and a season pass is $279.

Comment on "And then there were three: A-Basin, Loveland, and Echo Park" using the form below