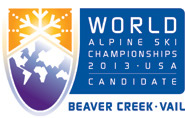 2013 World Alpine Ski Championships bid team heads to South Africa
Beaver Creek/Vail faces tough battle to host Worlds for a third time
By realvail.com
May 20, 2008 — A year's worth of international lobbying and campaigning to bring the 2013 FIS World Alpine Ski Championships to the Vail Valley will culminate May 26-29 as a 20-member delegation from Beaver Creek and Vail heads to the International Ski Federation (FIS) Congress in Cape Town, South Africa.

The Vail Valley Foundation, in conjunction with the U.S. Ski and Snowboard Association (USSA), announced that Beaver Creek/Vail would represent the United States in the bid process in May of 2007, vying for the right to host skiing's most prestigious event against Schaldming, Austria; St. Moritz, Switzerland and Cortina, Italy.

"When we entered the race a year ago," explained Ceil Folz, president of the Vail Valley Foundation, "we knew that we were going to be somewhat of a dark horse candidate in a world class field. While we have made up a good amount of ground, I think we're still a bit of an underdog heading in to Cape Town, but I also think we may be in striking distance."

The vote for the host site of the 2013 FIS World Alpine Ski Championships will be taken on May 29 by the 17 members of the FIS Council, following the official presentations of all four candidates.


"Beaver Creek/Vail represents a great opportunity for the FIS to showcase our sport in the largest ski market in the world," said U.S. Ski and Snowboard Association President and CEO Bill Marolt. "As a part of Beaver Creek/Vail's Engaging New Worlds program, we have a strong plan to increase recreational participation nationwide in conjunction with the Championships, attracting young and old alike to enjoy a great lifelong activity. It will be 14 years since the FIS Alpine Ski World Championships have been held outside Central Europe or Scandinavia and we're optimistic the FIS will look globally and come to America."

The Beaver Creek/Vail contingent to Cape Town will include representation from the Vail Valley Foundation, Vail Resorts and Town of Vail. Folz and Michael Imhof, the Foundation's Vice President of Operations and Sales, will head the VVF segment of the delegation, along with board members Sheika and Pepi Gramshammer, and Erik Borgen. Vail Resorts' President John Garnsey and Vail Mayor Pro Tem Andy Daly will round out the campaign committee.

In addition to presentations, meetings and additional lobbying, the Beaver Creek/Vail contingent will also operate an exhibition booth May 26-28, which will outline the bid details, while also serving food samplings prepared by Chef Tim McCaw of Zach's Cabin and Red Sky Ranch.

"While South Africa may sound like an exciting place to visit," added Folz, "Cape Town will be a pretty stressful time for our group, with a lot at stake. The finish line is in sight and we need a strong stretch run."


1 Comment on "2013 World Alpine Ski Championships bid team heads to South Africa"