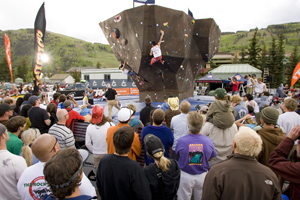 This year's Teva Mountain Games will feature the first World Cup climbing event on U.S. soil in 20 years.
Photo by Dan Campbell/Teva Mountain Games 2007
tevamountaingames.com
Teva Mountain Games comes to Vail June 5-8
World Cup climbing event to headline outdoor Games
By Tom Boyd
May 29, 2008 — The water is running, the climbers are arriving, and even the local dogs seem to have an extra glint in their eye as Vail gears up for the Teva Mountain Games, coming to town June 5-8.

The the largest outdoor adventure sports festival combines multiple outdoor sports all at one venue. Everything from fly-fishing to kayaking, mountain biking to trail running, climbing to rafting – and even competitions for your dog - will fill the streets and rivers of Vail this June.

The Teva Games will also host the first World Cup climbing event in the U.S. in twenty years.

"This is truly an exciting development for the sport of climbing and anyone who has ever dreamed of watching the best athletes in the world compete right in front of your very own eyes," said Joel Heath, President of Untraditional Marketing, owners and operators of the Teva Mountain Games. "Our new competition climbing wall will make this event easy to watch and understand. Not to mention, you have seven other sports and a multitude of concerts and parties to absorb. A mountain weekend cannot get any better than this."

The environmentally friendly, motorless outdoor sporting event will host 2,000 professional and amateur outdoor athletes from all over the world. These athletes will converge upon the mountains and rivers to compete in seven sports and 21 disciplines for over $100,000 in prize money. This year's disciplines include kayaking, rafting, mountain biking, road cycling, World Cup and amateur climbing, paragliding, fly-fishing, trail running, diving dogs and multi-sport racing.

An estimated 1.4 million people will tune into the Teva Mountain Games on its national television and on-line broadcast.

Visit the
RealVail Teva Mountain Games Photo Collection

See all of RealVail's Teva Mountain Games stories and photos at the links below:

Photo gallery by Dan Davis of trekkerphoto.com  
Teva Mountain Games 2008 photo slide show
A toast to the Teva Mountain Games pros and amatuers alike
Tired happy the Teva Mountain Games are coming to a close
How a defunct Vail dam brought luck to the Teva Games
Got stripper skills Teva Mountain Games nightlife poised to deliver for a cause
Vails Teva Games bring out the best in outdoor community
Whitewater could be big for upcoming Teva Mountain Games June 5 8
Teva Mountain Games Green Pledge is a welcome gesture
Teva Mountain Games comes to Vail June 5-8
Slopestyle charity crawl featured tonight as part of the Teva Mountain Games
Town to improve whitewater park

1 Comment on "Teva Mountain Games comes to Vail June 5-8"