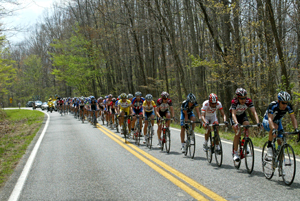 The Colorado Stage International Cycle Classic now has a new website

Colorado Stage International Cycle Classic launches new website
By realvail.com
June 21, 2008 — The Vail Valley Foundation, organizers of the inaugural Colorado Stage International Cycle Classic, announced the launch of their newest website www.coloradostagebike.com on Tuesday. The site marks the company's sixth launch in nine months and the official website for the Colorado Stage.

"It has been a busy year and the Colorado Stage website completes our VVF presence online," says the VVF's Sarah Dixon. "Each site launch has been different and we've put a lot of time and effort into making sure each website reflects the character of the Foundation's various events and venues online."

The new website features detailed interactive maps, an integrated blog and a robust video and photo gallery that enables users to download media to their computers and/ or mobile devices. Other features include numerous weather feeds, team profiles and comprehensive race information. "It was very hard to communicate this first-year event online considering we did not have any event photos or videos that show the excitement of professional cycling," continues Dixon. "We were fortunate to attain some vintage Coors Classic photos & videos from Michael Aisner that we think cycling enthusiasts will enjoy. It shows the history of professional cycling in Vail and also highlights the excitement this community once had for the sport."
During the event the Colorado Stage website will also broadcast a live event webcast and race results. Other Vail Valley Foundation websites, all built by Avon-based RTP, LLC include:

www.vvf.org

www.bcworldcup.com

www.vilarpac.org

www.vaildance.org

www.sessionvail.com



The inaugural installment of the Colorado Stage International Cycle Classic rolls into Colorado August 22-24, 2008. The event features three stages of professional cycling, the Divide Ride citizen's ride, a cycling themed health and lifestyle expo and live music and entertainment.
The Colorado Stage International Cycle Classic is a project of the Vail Valley Foundation. More information on the Colorado Stage can be found at www.coloradostagebike.com or www.vvf.org.

Comment on "Colorado Stage International Cycle Classic launches new website" using the form below