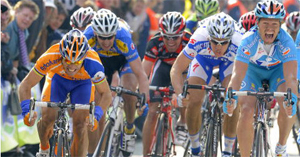 The inaugural Colorado Stage International Cycle Classic road bike race scheduled for August 22-24, 2008, has been cancelled.
Photo courtesy Vail Valley Foundation
Citing lack of funding, Vail Valley Foundation cancels Colorado Stage Cycle Classic
By realvail.com
July 1, 2008 — The Vail Valley Foundation announced today that it has cancelled the inaugural Colorado Stage Colorado Stage International Cycle Classic road bike race scheduled for August 22-24, 2008. The race would have been a high-level international event, similar to the Coors Classic and Red Zinger Classic events of the 80s and 90s, and had already booked some of the best road-bikers in the world to attend.

Organizers said key sponsorship dollars could not be secured last week, putting the event in dire straits.

"We just felt it was the right thing, as a community organization," said the Vail Valley Foundation's Shelly Woodworth. "Sporting events are our highest profile events, and they're the funding mechanism for some of our other programs – so to be out of pocket for a sporting event of this magnitude doesn't make sense for a community organization."

The Colorado Stage was expected to have a budget of nearly $2 million. The Vail Valley Foundation considered various means to reduce that budget, but the remaining shortfall was too large for the Vail Valley Foundation to absorb, said organizers.

"When requesting the event be placed on the UCI [Union Cycliste Internationale] calendar, we recognized the challenges facing us in finding enough sponsorship support," explained Ceil Folz, President of the Vail Valley Foundation, in a release. "The declining economic picture has made these efforts increasingly difficult, and the final straw came last week when we were not able to close a deal with a presenting sponsor."

"Having to cancel the Colorado Stage is incredibly disappointing," Folz continued, "because so many people have worked so hard to try and make it a reality. I know that a tremendous amount of interest has been generated in bringing major international road cycling back to Colorado, but we felt that delaying our decision any later would be unfair to the teams and sponsors that have already committed. A major bike race requires major corporate partners, and enough of those were just not in place."

Support from the community has been enormous, led by the Town of Vail and the Beaver Creek Resort Company.

Vail's Mayor, Dick Cleveland released a statement Monday evening saying, "We're obviously disappointed the event won't happen here this summer as planned, but we're optimistic we'll have the opportunity to host the races in Vail when the time is right. The Vail Valley Foundation is an extraordinary partner of the Vail community and we commend the Foundation's board and staff for the multitude of work that has taken place thus far to ensure the Colorado Stage would have been an event to remember. We're hoping the legwork and coordination will be put to good use in the future, not only for this event, but for other world class activities we've come to expect from the Foundation and its longstanding reputation for excellence."

John Garnsey, Executive Vice President of Vail Resorts' Mountain Division added, "We understand and support the Vail Valley Foundation's decision to not move forward with the Colorado Stage bike race. For 27 years, the Foundation has produced international-caliber events here in the Vail Valley, and we're sure that when the time is right, our community will once again turn to the Foundation to lead the way."

The Colorado Stage, a three-stage cycling race, was scheduled to feature a 135-mile road race from Breckenridge to Beaver Creek, a 72-mile circuit race in and around Vail Village and a 10-mile individual time trial from Vail Village to the East Vail cul de sac.

"I am confident that our team did all they could to make this dream a reality, and we're so thankful to our partners who have committed and worked so hard up to this point. We are deeply disappointed to have had to make this decision, and we thank the cycling community for its understanding," Folz concluded. "We believe in the sport of cycling, but feel the conditions were not right for it to be successful here at this time. We will continue to work with USA Cycling and UCI to determine the best methods and strategies to once again bring professional cycling back to the Vail Valley and Colorado."

Sean Petty, CEO of USA Cycling echoed Folz's sentiments, "I am hopeful and confident that we will have a major international cycling event in Vail in the very near future. We are grateful for all VVF has done over the years for cycling in the United States and worldwide."

The Vail Valley Foundation is non-profit organization with a mission to enhance and sustain the spirit of the Vail Valley by providing leadership in educational, athletic and cultural endeavors. The organization produces the Birds of Prey world cup ski races, the Honda Session snowboard invitational, the American Ski Classic, the Vail International Dance Festival, as well as year-round free concert series. The Foundation is the managing organization of the Gerald R. Ford Amphitheater and the Vilar Performing Arts Center in Beaver Creek, in addition to funding several educational initiatives for Eagle County students. For more information on all Vail Valley Foundation events, visit vvf.org.


Comment on "Citing lack of funding, Vail Valley Foundation cancels Colorado Stage Cycle Classic" using the form below