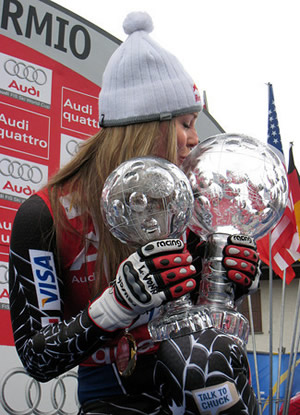 Lindsey Vonn of Vail shows off the two crystal globes she won at the World Cup Finals in Bormio, Italy, in March.
Courtesy of the U.S. Ski Team
Vail's Vonn up for Best Female Athlete ESPY Award
By realvail.com
July 7, 2008 — Alpine World Cup overall champion Lindsey Vonn, of Vail, looks to add to her haul of hardware this year with a 2008 ESPN ESPY Award for Best Female Athlete. Her nomination was announced last week and the actual awards, hosted by Justin Timberlake, air at 7 p.m., MST, Sunday, July 20.

In only its fifth year of doing so, the ESPY Awards will be determined solely by the fans who either vote online at www.espys.tv, or text message in a vote at espn.mobi. Voting began July 1 and runs through July 12.

Vonn is joined by and U.S. Ski Team athletes and reigning X Games gold medalists Gretchen Bleiler, of Aspen, and Lindsey Jacobellis, of Stratton Mountain, Vt. Halfpipe queen Bleiler and Jacobellis, the most dominant force in snowboardcross, will go head to head for the Best Female Action Sport Athlete.

Vonn's nomination comes on the heels of the greatest season for an American woman in U.S. Ski Team history. With five downhill wins Vonn became only the second American, male or female, to win the World Cup downhill title. The downhiller also landed podium finishes in super combined and super G to clinch the World Cup overall title, becoming the first and only American woman to win the World Cup overall since Tamara McKinney in 1983.

Bleiler got the ESPY nod following an exceptionally successful season where she solidified her status as the most dominant female halfpipe athlete with a win in the opening Chevy U.S. Snowboarding Grand Prix. She then followed it up with a huge performance in her hometown of Aspen to earn her third X Games halfpipe gold in February. Bleiler also made her mark in ESPN Magazine history by becoming the first action sports female to ever grace the cover.

Jacobellis' nomination is the outcome of a season where she won the World Cup SBX opener in Chile and went on to enforce total domination of the sport at the X Games where she beat out an international field for her fourth X Games gold. From there, Jacobellis had three more World Cup wins to finish second in the snowboardcross standings, as well as two wins in the Jeep King of the Mountain series.

The 2008 ESPYs are hosted by pop star Justin Timberlake and will air July 20 at 9 p.m. ET on ESPN.


Comment on "Vail's Vonn up for Best Female Athlete ESPY Award" using the form below