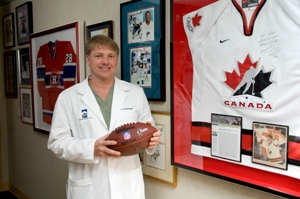 Originally from Quebec, Marc J. Philippon has a passion for hockey but has worked on the hips of athletes ranging from skiing gold medalist Julia Mancuso to two-time British Open champion Greg Norman.
Dan Davis
trekkerphoto.com
Marc Philippon: hip doctor of the stars
Top doc brings pioneering procedure to Vail's Steadman-Hawkins Clinic
By David O. Williams
March 4, 2009 — Editor's note: This 2006 story profiling Marc Philippon soon after he moved to Vail from Pittsburgh underscores the skills and the clientele the Quebec native brought with him to Vail's renowned Steadman-Hawkins Clinic. We're digging it out of the archives because Philippon has been making headlines lately for examining New York Yankees star Alex Rodriguez's right hip for a cyst.

Dr. Marc J. Philippon of Vail's Steadman-Hawkins Clinic credits golfing great Greg Norman with giving his career as an orthopedic surgeon a huge boost by allowing the Great White Shark's 2000 arthroscopic hip surgery to be broadcast live on the Internet.


Norman credits Philippon with extending his legendary links career using an innovative and minimally invasive procedure only recently coming into vogue in the United States.


"Marc essentially saved me from a total hip replacement," says Norman, a two-time British Open winner who owns a ranch northwest of Vail and designed the Norman Course at Vail Resorts' Red Sky Ranch Golf Club near Wolcott.


"(Marc) is a pioneer in terms of bringing science to the golf course, and the flexibility of the instruments he uses allows him to reach areas of the joint that were previously inaccessible. Before I came to him these methods weren't used for golf-specific injuries, but now it's a common procedure among professional golfers."

Prevention is the best medicine

Five major muscle groups converge on the hip joint, but Dr. Marc J. Philippon of Vail's Steadman-Hawkins Clinic says those muscles are often neglected in workout regimens, increasing the potential for hip injuries and the need for hip replacements.


A study conducted by Dr. Steven M. Kurtz of Exponent Inc., an engineering and scientific consulting firm, concludes the number of total hip replacements in this country will increase by 174 percent – to 572,000 – by 2030.


According to the American Academy of Orthopaedic Surgeons, there are currently more than 193,000 total hip replacements performed each year in the United States.


The increase in joint replacements - a $4.3 billion annual industry – is due to several factors, according to Kurtz, among them rising obesity and the higher level of activity of baby boomers later in life.


Boomeritis, as it's been tabbed in the media, means adults are putting more stress on their joints over longer periods of time. For those who have had hip replacements, the National Institutes of Health recommends low-impact exercises such as walking, stationary bicycling, swimming and cross-country skiing.


Philippon advocates preventing hip replacements altogether through early detection of osteoarthritis, arthroscopy when necessary, and strengthening of the muscles around the hip through proper exercise.


The website prevention.com says weak hips are extremely common and suggests one to three sets of eight to 12 repetitions twice a week of these three hip-strengthening exercises:


* Side-lying leg lift: lie on right side with right arm straight overhead. Bend bottom leg at the knee, and rest left foot on the ground. Slowly lift top leg about 20 inches. Hold for a second, then slowly lower. Do one set, then switch legs. Ankle weights can be added.


* Hip flexion: stand with an exercise band looped around ankles. Lift left leg forward about 45 degrees against the resistance of the band. Hold, then return to starting position. Do one set, then switch legs.


* Single-legged balance: standing on one leg, bend into a quarter squat. Balance on one leg if possible, but use a wall or chair for support if necessary. Hold for 60 seconds or as long as possible. Return to the starting position. Repeat three times, then switch legs.

Philippon says the repetitive nature of a golf swing makes pros and weekend duffers equally susceptible to hip-joint injury and chronic pain, but the motion and violence of many different sports opens other athletes up to debilitating hip problems.


Essentially any activity such as skiing or ice skating that involves flexion, abduction and rotation puts undue pressure on the hip joint. Throw in the full contact of hockey or football and athletes can see their careers go the way of the great Bo Jackson.


Philippon, 42, counts among his patients Mario Lemieux of the NHL's Pittsburgh Penguins, Olympic gold medal figure skater Tara Lipinski, NBA basketball star Marcus Camby and Pro Bowl NFL running back Priest Holmes.


After her gold-medal win in the giant slalom at the 2006 Torino Winter Olympics, ski racer Julia Mancuso, 23, had her hip scoped by Philippon, who acknowledges that "skiing is a risk sport." But he adds that diagnosing the problem early and using arthroscopy can keep young athletes active and avoid osteoarthritis and eventual hip replacement.


"The baby boomers were more active, generation X is very active, so we're seeing more activities early on like kids now at age 12 playing hockey almost every day," Philippon says. "If we catch it early enough, we can intervene surgically and non-surgically and hopefully prevent premature arthritis in their 30s and 40s and keep them active later in life."


Such statements fit seamlessly into the broader Steadman-Hawkins philosophy of preventing full joint replacements through exercise, diagnosis, arthroscopy and rehabilitation.


Which explains in part why Philippon joined the Vail-based clinic founded by renowned knee specialist Dr. Richard Steadman in 2005, coming over from the University of Pittsburgh School of Medicine's Department of Orthopedic Surgery.


Philippon was also impressed with the Vail clinic's emphasis on validating pioneering procedures through its nonprofit, science-based research foundation


"I've always admired Dr. Steadman for his ability to be on the cutting edge like with the microfracture technique," he says of procedure Steadman developed that uses microscopic incisions in the bone that allow stem cells to bubble up and form scar-cartilage to heal torn ligaments. "He pushed the research on that and now it's proven to be right."


Steadman, the official U.S. Ski Team physician who has prolonged the careers of athletes from Joe Montana to Dan Marino to Bruce Smith to Bode Miller, is an equally big fan of Philippon.


"He's been a world leader in hip maintenance and avoiding hip replacement. That's what he's pioneered," Steadman says. "He's figured out the reasons that people need total replacements and so now he can come in and correct that before they need it. It's just what we're doing in the knee, so it's an ideal fit."


15 Comments on "Marc Philippon: hip doctor of the stars"