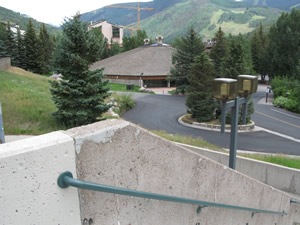 Dobson Ice Arena as seen from the Lionshead Parking Structure.

Lionshead garage developer eyes hockey arena, team in the Vail Valley
Group backed by son of former presidential candidate Perot eager for CHL franchise
By David O. Williams
August 7, 2008 — A developer backed by the son of Texas technology tycoon Ross Perot is shopping for land and a public-private partnership in the Vail Valley or Summit County to build a $60 million multi-purpose arena for a Central Hockey League franchise.

Mark Masinter, a principal in Dallas-based Open Hospitality, has signed a letter of intent with the CHL, which has teams in Broomfield and Loveland, and would pay a franchise fee of just over $1 million for the minor league team.

Open Hospitality, backed by Ross Perot Jr.'s Hillwood Capital, is also negotiating with the town of Vail to build a $900 million retail and residential project in Vail's Lionshead area, where the Eagle Bahn Gondola rises out of an aging ski village built in the 1960s.

That project would put the Lionshead parking garage underground, adding around 600 more public parking spots, and top it with a W. Hotel, a St. Regis, condos, shops and a conference center,. That 6.3-acre, town-owned site is adjacent to Vail's 2.1-acre Dobson Ice Arena, which Masinter's group is eyeing as a tear-down and one potential site for a new arena.

"Obviously there are some unbelievable synergies between the (parking garage and the ice arena) and you could do some very creative master-planning if it was part of it," Masinter said, but he added his group has also had discussions with officials in Edwards, Avon and Summit County.

The younger Perot, whose father was a Vail second homeowner when he famously ran for president in 1992 and very nearly won Vail and surrounding Eagle County (3,821 votes to 3,870 for Bill Clinton), has experience with sports arenas and public financing.

In 1998, Ross Perot Jr. and Hillwood, by a margin of a little more than 1,600 votes, won a bitter Dallas municipal election that provided $125 million in taxes from lodging and rental cars to build the American Airlines Center, home to the Dallas Stars of the National Hockey League and the Dallas Mavericks of the National Basketball Association, which Perot owned at the time.

A decade later, the center and Perot's surrounding $3 billion Victory Park residential neighborhood, which includes a W. Hotel and a House of Blues, have been credited with revitalizing the Dallas core.

"If you see what Victory has done for Dallas," Masinter said, "the return on investment the public has received because of the arena is ten-fold, and if you look at a more local example, Coors Field and what it did for LoDo, that's the kind of effect it can have if you build a proper facility in a community.

"That doesn't mean you want to urbanize or turn Vail or Avon or Edwards into LoDo, but it can have a very positive economic effect on the community that it goes to."

Masinter envisions a 4,500- to 5,000-seat arena that would host concerts, conferences and 32 CHL games between October and April, drawing largely on the more than 100,000 people living in Eagle, Summit, Pitkin, Garfield and Routt counties, as well as the thousands of international tourists who record more than 1.6 million skier days at Vail each season.

Rick Kozuback, president of Phoenix-based Global Entertainment Corporation, parent company of the CHL, said a ski-country team would also draw on Front Range guests familiar with the league's product in Broomfield and Loveland.

"If people are coming to Vail to ski and we know they're here and they're staying over, our job is to provide a reason for them to get away from their condo or hotel and get them into this building at least one of the nights that they're here to stay," Kozuback said. "That might be a challenge, but it's a lot better challenge than you have in some of the other markets."

The CHL consists of 17 teams throughout the south-central U.S., including Loveland's Colorado Eagles and Broomfield's Rocky Mountain Rage. Some of the teams are affiliated with American Hockey League or NHL teams.

The CHL champion Arizona Sundogs, of Prescott, Ariz., are partly owned by Colorado Avalanche president Pierre Lacroix's son, Eric, and singer Celine Dion. Other league owners include Ralph Backstrom of the 2007 league champion Eagles. Backstrom won six Stanley Cups as a player in the NHL and later coached at the University of Denver.


5 Comments on "Lionshead garage developer eyes hockey arena, team in the Vail Valley"