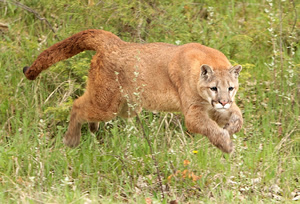 Tigers are OK on the golf course, but a lion like this one is probably the last thing you want to see on the back nine.
Courtesy of Flickr.com
www.flickr.com
Coping with critters on Vail Valley golf courses
Encounters with 'mega-fauna' rare but possible at area golf clubs
By David O. Williams
August 22, 2008 — The last thing most golfers need is one more thing rattling around their brain during their pre-swing routine, but you might want to add this bit of advice next time you're on a course in the Vail Valley or anywhere else in the Rocky Mountain West: "If attacked by a bear or a mountain lion or any wild animal, fight back. Don't play dead, because then you will be. But if a moose wants to come too close to you, run away."

These words to live by come from Randy Hampton, a golfer and a spokesman for the Colorado Division of Wildlife who acknowledges that encounters with the state's "more aggressive mega-fauna" on the links, while rare, can occur, and it's best to be equipped with some simple rules for dealing with critters on the course.

"Golfers are more prepared to deal with wildlife in some respects because they carry a big bag full of sticks and so at least they've got defensive materials with them," Hampton deadpans. "But I would recommend if approached by a moose on a golf course, don't pull out your one iron, because nobody can hit anything with a one iron."

For the most part, though, the run-away rule for moose and the fight-back rule for everything else – both of which apply off the course as well, on hikes, while biking or even in your back yard – only come into play as a last resort. Give wildlife a wide enough berth, avoiding and admiring from afar, and things will never come to such extremes, Hampton says.

The West's biggest predators, bears and mountain lions, are generally shy around humans and for the most part want nothing to do with the relative hustle and bustle of the average golf course. However, most mountain courses are situated in areas where watering creates lush ecosystems ideal for deer and elk, which in turn can bring in bruins and big cats, and we're not talking Tiger Woods.

"Mountain lions they said were up here last year, but I never saw any; I think it was urban legend," says John Kuzina, head pro at Cordillera's Mountain Course near Vail. "And once last year we had a bear come pretty close to our staging area late at night. Someone was carrying a couple of buckets of balls out to the range and came face to face and the bear got scared and ran down the range."

One of the cart paths at the classic Mountain Course, a Hale Irwin design built in the early '90s, has a permanent reminder of just how close Cordillera is to the Bellyache Ridge area near Wolcott that's known locally as "Bear Alley."

"When we poured the cement before we opened back in '94 a bear walked across the cart path, and when we came out the next day the cart path had dried and the prints were there, so we just put up a sign that said, 'Caution, bear crossing,'" says Kuzina, who caddied for the first official round ever played on Cordillera's Mountain Course.

Kuzina says most guests enjoy seeing deer and elk wandering across the fairways at dusk, or the chance encounters with wild turkeys (not the kind that comes on the beverage cart) that inhabit the area between the Mountain Course and Cordillera's Summit Course, or seeing the foxes that seem to be everywhere. He says golfers generally never have any run-ins with the local wildlife.

The Divisions of Wildlife's Hampton concurs that's usually the case on golf courses throughout his coverage area on the Western Slope of Colorado. Leave the beasties alone, he says, and they will return the favor. Whatever you do, he adds, refrain from feeding any kind of wildlife, and never harass any of the animals – an act that is punishable by state law.

"Don't throw them your sandwich," Hampton says. "Maybe you get the opportunity to see them a little longer or snap a picture with your cell phone so you can tell your friends you're both Ernie Els and Steve Irwin, but that creates so many problems for the people behind you because that bear's going to keep coming back.

"And now because we have a bear that's behaving aggressively because of you and your baloney sandwich, we end up putting it down," he adds. "So to toss him a sandwich, you might as well be killing a bear. A fed bear is a dead bear."

Beyond bears, Hampton says there's a virtual ark of animals in and around golf courses throughout the Rocky Mountain West, from the desert courses of far western Colorado to the high-altitude courses in the resort areas of Vail, Aspen, Telluride and Steamboat.

"It starts with birds, not birdies, but birds," Hampton says, calling the Federal Migratory Bird Act "more intimidating than the elevated tee box to elevated green. Basically it says don't do anything bad to the birds or else the federal government can come and get you."

He cites the example of journeyman PGA Tour pro Tripp Isenhour, who in March was charged with killing a migratory bird and cruelty to animals after firing golf balls at a noisy red-shouldered hawk while filming a TV golf show on a course in Florida. He finally struck and killed the bird but said it was an accident and that he was only trying to scare it off.

Tiger Woods was seen several times backing off his ball after being swooped by seagulls during the U.S. Open at Torrey Pines near San Diego in June, but never indicated the gulls were anymore annoying that photo-snapping fans or the busted left leg that cost him the rest of the 2008 season but couldn't keep him from winning his third Open and 14th major overall.

Squirrels and rabbits are a constant on most courses, and marmots at high altitude and prairie dogs down lower can also cause distractions, but Hampton says the biggest concern is the holes such burrowing rodents sometimes create on your favorite fairways and greens. Hitting your ball into the wrong hole is probably a good excuse to use another ball and maybe improve your lie and your luck.


"What did your ball cost? If you're one of those guys who think he needs the expensive stuff, it's maybe three bucks," Hampton says. "If you're like the rest of us that plays poorly, you bought it for 25 cents in the pro shop from the bucket they dive in the pond and get, so you have to have ask yourself if your 25 cents is worth reaching in the hole."

Besides maybe encountering something a little more aggressive than a prairie dog in that hole, such as a badger, plague-carrying fleas and the occasional snake are also a very real possibility.

"We're lucky in Colorado in that we don't have a whole lot of venomous snakes. As I say that, I'm sure someone is out there getting bitten by one right now," says Hampton, who acknowledges rattlers can be found on desert courses but adds that generally shouldn't be a problem for anyone with a modicum of skill.

"They tend to inhabit rocky cliff type habitats where your ball should not be, so if you encounter a snake in western Colorado, it's because you're a bad golfer and your ball is where it shouldn't be. You might just be better off to let that go. Take the stroke, take the penalty drop."

Larger reptiles such as alligators are not a concern in Colorado, or anywhere else in the Rocky Mountain West for that matter, although they're a frequent hazard on courses throughout Florida. The Ginn Company, which owns and operates a number of courses in the Sunshine State, will have to shift its thinking to furrier fauna when it builds its Battle Mountain courses near Vail in the coming years. But Hampton says that for the most part the big game of the Rocky Mountains shouldn't interfere too much with your big game, and in fact are an added attraction.

"Estes Park [Colorado] golfers will tell you about the elk all over the golf courses to the point that you've got to send somebody down there to clear the fairway off before you hit your ball," Hamptons says. "It's real challenge on some of those types of courses, but for all the golfers who say, 'Gee, the elk are ruining my ability to golf,' I would bet you there's five of them who say, 'That's why I came here to play, because I heard about it and had to see the elk.'"

But Hampton keeps coming back to the one enormous ruminant making a huge comeback in Colorado and attracted to riparian areas like golf-course ponds. It's the only animal, he says, with its own set of rules that fly in the face of the fight-back, make-yourself-bigger and yell-a-lot strategy employed with every other large mammal that's acting aggressively.

"If a moose wants to come too close to you, run away," he says. "We tell people with every other animal don't run away because it triggers their predator-prey relationship. Moose are not predators, they are just ill-tempered."

And mountain lions are the one predator golfers should most avoid.

"If there's a mountain lion on the course, if you're not having a Tiger Woods type of round, it might be time to move along and report that to someone," Hampton says. "There are a lot hazards on a golf course, but mountain lions are probably one you don't want to play through."

The story first appeared in Rocky Mountain Golf Magazine.


Comment on "Coping with critters on Vail Valley golf courses" using the form below