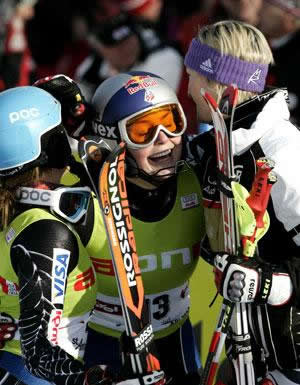 Vail's Vonn named Ski Museum's Competitor of the Year
Award to be presented at annual Hall of Fame induction gala in Denver Oct. 18
By realvail.com
September 25, 2008 — The Colorado Ski & Snowboard Museum and Hall of Fame in Vail recentlhy announced Ski Club Vail product Lindsey Vonn, the overall World Cup alpine ski-racing champion last season, won the organization's inaugural Competitor of the Year Award.

The new award recognizes an athlete with Colorado ties who has distinguished him or herself in international competitive snow sports, and Vonn did so in a huge way last season, becoming only the second American woman and fourth American ever to win the overall World Cup title.

Vonn, a two-time World Championships silver medalist and two-time Olympian, won six World Cup races last season en route to also claiming the downhill discipline title. The 23-year-old Park City resident has won 13 World Cup races in her career, just five behind the legendary Tamara McKinney, who was the best American woman racer ever with 18 career wins.

The award will be presented during the Hall of Fame induction gala in Denver at the Marriott City Center, Saturday, Oct. 18, which also happens to be Vonn's 24th birthday. It's unlikely, however, that she'll be able to attend because of the annual World Cup opener in Soelden, Austria, in October.

"I'm honored," Vonn said. "I remember going [to the Ski Museum] when [teammate] Sarah Schleper had a party there before she went to the Salt Lake Games, and I remember it being really special and seeing so much ski history at the museum. It was really cool and I've never gotten an award from the museum before. It's very special, and it's great to be a part of the community and have them recognize me and have my peers support me that way. It's awesome."

Vonn, originally from Minnesota and the famed Buck Hill program, moved with her family to Vail to train with Ski and Snowboard Club Vail in the late 1990s. At the 2002 Salt Lake City Winter Olympics she had the top results for a U.S. woman – sixth in the combined.

After a spectacular training-run crash at the Turin Winter Olympics in Italy in 2006 landed her in the hospital, Vonn rebounded only days later to finish seventh in the super-G and eighth in the downhill. Last year Vonn won two Championships silvers, injured her knee to end her season and later married U.S. Ski Team veteran Thomas Vonn, whom she says helped her rebound from her injury and find the drive to win the overall title in 2008. She still has many lofty goals in her sport.

"For the future, Tamara McKinney's 18 wins is definitely a goal, and I don't want to sound egotistical, but I really would like to break other records as well. I just want to try and keep winning as much as I can and see where it takes me," Vonn said.

To attend the Oct. 18 Hall of Fame induction gala or for more information about the Colorado Ski & Snowboard Museum and Hall of Fame, call (970) 476-1876 or go to www.skimuseum.net.


Comment on "Vail's Vonn named Ski Museum's Competitor of the Year" using the form below