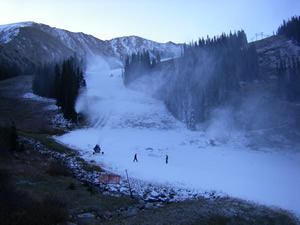 Crews at Arapahoe Basin have been blowing snow in earnest since Sunday, Oct. 5. Chances are A-Basin will open this week, but Loveland, which has been making snow for a couple of weeks, is giving them a run for their money in the race to open first.
Courtesy of Arapahoe Basin
A-Basin cranks up all 18 snow guns in race to open ahead of Loveland
By realvail.com
October 13, 2008 — Arapahoe Basin began making snow Sunday night, Oct. 5, and continues to make snow nightly. The cold weekend weather and a couple of inches of natural snow were ideal for continued snowmaking progress, resort officials reported.

A-Basin's full force of 18 snow guns have been running from Black Mountain Lodge to the base area on the intermediate High Noon run. A-Basin officials would like to have a minimum base of 18 inches before they open the slopes for the season. Although no definite opening date has been set, progress has been good and opening day should not be far away.

A-Basin has invested $1.2 million into parking improvements for the 2008-09 season. The Summit County ski area will unveil 300 additional parking spaces connected to the resort via a new pedestrian tunnel under Highway 6.

The tunnel will make for safe, easy walking access to and from the base area. Additionally, the resort will have shuttles available to take guests from the upper parking lots to the base area.



Comment on "A-Basin cranks up all 18 snow guns in race to open ahead of Loveland" using the form below