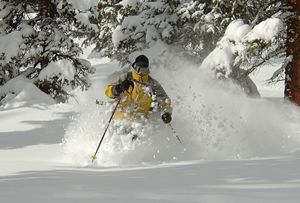 Get geared up and psyched up for scenes like these by attending the Colorado Ski & Snowboard Expo in Denver Nov. 7-9.
By Dan Davis
www.trekkerphoto.com
Find celebs, deals, gear galore at Colorado Ski & Snowboard Expo Nov. 7-9 in Denver
By realvail.com
November 2, 2008 — Just in time for four more ski resorts – Breckenridge, Copper Mountain, Keystone and Wolf Creek – to join Arapahoe Basin and Loveland for the 2008-09 ski season, the 17th Annual Colorado Ski & Snowboard Expo returns to the Colorado Convention Center in downtown Denver Nov. 7-9.

In addition to the big sale on ski and snowboard equipment and clothing, the Expo also brings together all of Colorado's ski resorts to showcase their collective $200 million in capital improvements while providing one last chance to purchase lift tickets and lodging packages at early season prices.

Skiers and riders can also drop off their old equipment at Colorado Ski & Golf's temporary recycling center at the Convention Center. This is the first year ski recycling has been available in Colorado and provides a way for conscientious skiers and riders to keep their old gear out of landfills.

This super-sized Expo is renowned for hosting the single largest ski and snowboard sale in the single biggest temporary ski shop in Colorado -- more than 20,000 square feet of inventory for adults, kids, skiers, and riders in the latest styles and with deep discounts.

Admission is $12 for adults or $10 with a discount coupon available in the Denver Post or at all five Colorado Ski & Golf stores. Attendees can save even more by pre-purchasing a ticket online at www.OnTheSnow.com. As always, kids 12 and under are free.

The Colorado Expo is open from noon to 10 p.m. on Friday, Nov. 7. Saturday's hours are 10 a.m. to 8 p.m. and Sunday from 10 a.m. to 6 p.m.

High octane entertainment adds to the energy level and one of this year's top attractions is the Honda Rocky Mountain Snowdown Rail Jam where skiers and riders literally ride a series of rails similar to the ones found in terrain parks -- and city streets. The three rails will be open for practice on Friday and Saturday with competition on Sunday.

Elite and medal-winning athletes will also make appearances at Expo. Fans can track down world famous freeskier Glen Plake with his trademark Mohawk, Olympian Tommy Moe, who will be signing posters in the Jackson Hole booth, and Steamboat legends Nelson Carmichael and Billy Kidd.

Members of the U.S. Disabled Ski Team including Chris Devlin-Young, Allison Jones, Tyler Walker, Elistsa Storey, Jared Hawn, and Colorado native Hannah Pennington will also be making appearances.

Other popular attractions include the high-flying antics of the SkyRiders and their dazzling trampoline performances, with six athletes doing individualized and synchronized routines, the Breckenridge Kid's Center where children up to age 13 receive an easy and fun introduction to skiing, and the infamous Grand Central Entertainment Center hosted by the manic Uncle "E" and featuring all kinds of crazy competitions dreamed up by imaginative employees from the Colorado resorts. On the agenda this year: bobbing for pickles, sumo wrestling, cup stacking, scooter races, and a variation on the sport of curling.

Beyond that, a variety of snowsports companies will be showcasing everything from gadgets that help get gear to the slopes more efficiently to equipment that will help skiers prepare for the season. International and non-Colorado resorts will also have booths for snow riders contemplating an out-of-state ski or snowboard trip this season.

For details, athlete appearance times, schedules, and discount coupons, visit www.OnTheSnow.com.

Comment on "Find celebs, deals, gear galore at Colorado Ski & Snowboard Expo Nov. 7-9 in Denver" using the form below