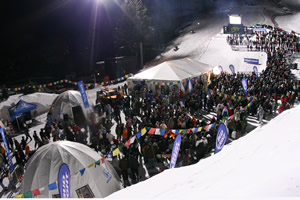 Say so long to the Session, a Vail snowboard event that was unlike any other, but which has been cancelled by Vail Resorts and the Vail Valley Foundation.
realvail.com file photo
Say goodbye to the Vail Session snowboard competition
By realvail.com
November 5, 2008 — Following a six-year run as one of the top snowboard competitions in the world, the Vail Valley Foundation along with their partner Vail Resorts, announced recently that they will bid farewell to the Session pro snowboard competition, contested in Vail since 2003.

"The Foundation and Vail Resorts had agreed that 2009 would be the last year for the event," explained Ceil Folz, president of the Vail Valley Foundation. "As we looked at our slate of athletic events for 2009 and beyond, and in discussion with Vail Resorts over the past two years, it became increasingly clear that while the Session has been a great event for the sport of snowboarding and a welcome addition to the Vail Valley winter, it was time for both the Foundation and Vail Resorts to look to the future for new events and programs that will target an ever changing marketplace. We both agreed that it was best for everyone involved to pull the plug now."

During its six-years, the Session featured numerous highlights, including the early domination by Olympic gold medalist Shaun White and historic performances and incredible aerial feats. The 2007 Session showcased the first 1260's ever landed in a Slopestyle competition, courtesy of David Benedek and Chas Guildemond, while the 2008 event featured the first 1440 landed in competition by Guildemond.

In addition to White, Benedek and Guildemond, the Session alumni roster also included Andreas Wiig, Travis Rice, Kevin Pierce, Molly Aguirre, Silvia Mittermueller and Marie-France Roy.

While the Vail Valley Foundation is on the verge of announcing a new initiative, the Foundation and Vail Resorts will continue to investigate additional event opportunities, both winter and summer that ensure that the two organizations continue to bring world class events to the Vail Valley for both residents and guests.


Comment on "Say goodbye to the Vail Session snowboard competition" using the form below