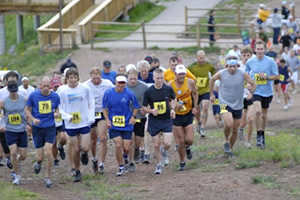 The VRD's mountain trail running series got top honors in Colorado Runner magazine recently.
Courtesy of the Vail Rec District
www.vailrec.com
Vail Rec District's mountain trail running series named best in the state
Colorado Runner magazine bestows title on Vail for the second time in four years
By realvail.com
November 10, 2008 — The Vail Recreation District's (VRD) 2008 La Sportiva Vail Mountain Trail Running Race Series was named best running race series for the second time in four years by the regional magazine Colorado Runner. The five-race series was selected as the top choice in 2008 by voters via a poll from the magazine's Web site at www.coloradorunner.com.

According to VRD Sports Director Joel Rabinowitz, this year's series boasted nearly 1,500 participants, an increase of 400 participants over 2005 when it was last awarded best race series by the magazine. Nearly 20 runners completed all five races in the series, which took runners along 45 miles of trails for a total elevation gain of 13,492 feet.

"It's great to receive the honor as the top race series in Colorado by Colorado Runner," Rabinowitz said. "It's certainly a tribute to VRD staff, La Sportiva and all our race sponsors, plus participants who support the series year after year. We're looking forward to next year's series when we'll celebrate our 12th year of trail running racing in Vail."

Dates for the 2009 La Sportiva Vail Mountain Trail Running Race Series are tentatively set and will take runners on approximately 52 miles for a total elevation gain of 16,475 feet. Rabinowitz says a final schedule will be announced in March, but currently 2009 races include the Summer Solstice on June 20, Vail HillClimb on July 5, Half Marathon on July 19, Berry Picker on Aug. 2, 10K at 10,000 Feet on Aug. 16, Vail Trophy Race on Aug. 30 and EverGold 10K on Sept. 13.

La Sportiva Running Team manager and race series participant Buzz Burrell says the series provides runners with a great opportunity, whether they're local, from Colorado or the nation to come to Vail and run in spectacular mountain terrain.

"The Vail series provides a terrific weekend getaway for the competitive runner or the weekend warrior," says Burrell. "Beautiful courses, great mountain scenery and excellent organization make Vail a perfect example of why trail running is so fun."

Joining 2008 series title sponsor La Sportiva were Vail Resorts, FirstBank of Vail, Vail's Mountain Haus, SmartWool, Tiga Advertising, Howard Head Sports Medicine Centers, Steadman Hawkins, Joint Juice and Gatorade. Also, a special thanks to Scott McClarrinon who provided race-action photography throughout the series.

The VRD is an equal service provider and operates under special permission from the White River National Forest.

For more information on the La Sportiva Vail Mountain Trail Running Series, including 2008 results, go to www.vailrec.com or call (970) 479-2280.


Comment on "Vail Rec District's mountain trail running series named best in the state" using the form below