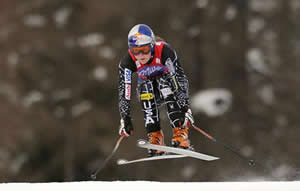 Vail's Lindsey Kildow Vonn on her way to clinching the overall World Cup title in Cortina, Italy, last season. Kildow's current season is in jeapordy after she sustained a left-knee injury in Copper Mountain this morning.
Photo courtesy U.S. Ski Team
Vail ski champ Lindsey Vonn injured, awaiting MRI results
By Tom Boyd
November 19, 2008 —
Vail's brightest skiing star was seen hobbling through the Vail Valley Medical Center this morning, recovering from a crash at Copper Mountain and awaiting the results of an MRI scan.

Lindsey Kildow Vonn, the storied Ski Club Vail racer who captured the women's overall World Cup title this past March, has injured her left knee and is awaiting news from doctors at the Vail Valley Medical Center.

Vonn won her first-ever World Cup slalom in Levi, Finland Nov. 17, a move that proved the speed-event skier is capable of dominating in all five World Cup disciplines.

Originally from Minnesota, where she trained slalom and giant slalom at Buck Hill, Vonn came to Vail as a teenager to increase her speed event skills.

She flourished, launching herself into the international spotlight with victory after victory on the World Cup circuit. Her accomplishments reached their apogee last year with her Overall World Cup victory.

Vonn is no stranger to injury. While training for tech events following two silvers at the World Championships in Are, Sweden in March of 2007, Vonn hurt her knee and missed the rest of the season, but came back with a vengeance last season to win six World Cup races and the overall title.

She also injured her back in a spectacular crash at the 2006 Winter Olympics in Sestriere, Italy, also during training. But she came back to finish top 10 in the downhill and super-G only days later and won the Olympic Spirit Award.

She is expected to comment on her condition this afternoon.

Read more about Vonn HERE.

Comment on "Vail ski champ Lindsey Vonn injured, awaiting MRI results" using the form below