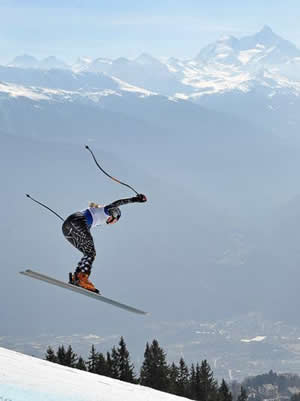 Vail's Lindsey Kildow Vonn, shown during a World Cup race in Switzerland in 2008, was cleared of ligament or cartilage damage after undergoing an MRI scan Nov. 19 in Vail at the Steadman-Hawkins Clinic.
Photo courtesy U.S. Ski Team
Vail's Vonn avoids serious knee damage after Copper Mountain crash
By Tom Boyd
November 19, 2008 — It was a delicate, even scary few hours for Lindsey Kildow Vonn and the U.S. Ski Team Nov. 19 when the reigning World Cup overall champion was given an MRI scan at the Vail Valley Medical Center.

Vonn crashed early in the morning during a Super-G training run and was taken to Vail for analysis after the fall.

According to U.S. Ski Team Medical Director Richard Quincy, Vonn was seen by the U.S. Women's Alpine Ski Team's Dr. William Sterett who indicated that she suffered a bruised left knee; there was no ligament or cartilage damage.

"What's going to happen is over the next couple of days she'll get treated for her inflammation on her knee, and we'll know more in the next few days," said U.S. Ski Team spokesman Doug Haney.

The Ski Team offered no return date for the international ski star, but Haney called the MRI results, "A good, good sign."

Vonn was training on a well-lit, well-conditioned course when she fell and injured her left knee.

"There was nothing really spectacular about it, it was really just a fluke fall," Haney said.

Last year, Vonn became the first American woman to win the overall World Cup title since Tamara McKinney in 1983. This season, Vonn burst out of the gates with her first victory in a World Cup slalom, winning the event in Levi, Finland, on Saturday.

The slalom victory indicated that Vonn, who typically specializes in speed events, was ready to showcase her abilities in technical slalom and giant slalom racing, a move that would tighten her grip on women's skiing and galvanize her place in the sport's history.

Vonn has shown toughness in the face of injury before. While training for tech events following two silvers at the World Championships in Are, Sweden in March of 2007, Vonn hurt her knee and missed the rest of the season, but came back with a vengeance last season to win six World Cup races and the overall title.

She also injured her back in a spectacular crash at the 2006 Winter Olympics in Sestriere, Italy, also during training. But she came back to finish top 10 in the downhill and super-G only days later and won the Olympic Spirit Award.

Vonn was unavailable for comment and is recovering at her hotel in Copper Mountain.


Comment on "Vail's Vonn avoids serious knee damage after Copper Mountain crash" using the form below