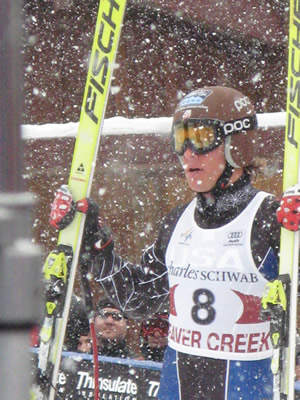 American Steve Nyman, second in the downhill last season at Beaver Creek, looks to improve a position on the podium this year.
By David O. Williams
Nyman looks to take final podium step at Birds of Prey World Cup
American racers, including Bode Miller, have enjoyed great success at Beaver Creek
By realvail.com
November 24, 2008 — The next step may well be golden for America's Steven Nyman as the 26-year-old leads the U.S. Ski Team into Beaver Creek Dec. 4-7 for the 2008 Audi Birds of Prey World Cup Race Week.

The native of Provo, Utah, finished third in the Birds of Prey Downhill in 2006, improving on that result last winter by posting a runner-up effort, missing the victory by a slim 92 one-hundredths of a second, despite coming through the Abyss with one ski up in the air.

"It seems that Steven has a very methodical, albeit unconventional approach to Birds of Prey," joked Michael Imhof, vice president of sales and operations for the Vail Valley Foundation, which organizes the annual men's World Cup. "He has already stood on two of the three steps of the podium, so perhaps this is his year to complete the hat trick. It might be a bit easier if he manages to keep both skis on the snow."

Since Birds of Prey celebrated its international coming out party in November of 1997, U.S. skiers have ascended the steps of the podium in Beaver Creek on 14 separate occasions in the past five years. Five of those trips have ended on the top step with victories, courtesy of Bode Miller (three) and Daron Rahlves (three), while four of the five wins also featured a second American racer among the top three.

Rahlves' 2003 Birds of Prey Downhill victory ended a 19-year American downhill victory drought on U.S. snow, while Miller and Rahlves' one-two finish in 2004 signaled the first time that American men had ever captured the top two spots in a World Cup Downhill.

"There's no doubt that Birds of Prey has been kind to our home team," said Imhof. "The facts become more impressive when you consider how challenging the Birds of Prey course is. We're very pleased that we have been able to not only bring some of the best racing in the world to American race fans each year, but that Birds of Prey has quickly developed a world class reputation in such a short time."

Another U.S. racer who provided the crowd and himself with a shot of adrenaline last winter is Lake Placid's Andrew Weibrecht. Racing out of the 53rd start position in the 2007 Birds of Prey downhill, the 22-year-old Weibrecht put together a run reminiscent of Franz Klammer's 1976 Olympic ride to gold, actually leading the race for an instant in the transition from the Golden Eagle Jump to the Harrier Jump, before settling into a 10th place final ranking.

"Andrew really made a statement with that run," Imhof said. "He just continued to throw himself down the fall line and kept picking up speed all the way down the course. The conditions were certainly not optimal and he actually pulled a 'Nyman' through the Abyss, but it was a spectacular run nonetheless."

The men's World Cup tour will travel to Canada for a downhill and super-G in Lake Louise Nov. 29-30 before heading south to Beaver Creek for the 2008 Audi Birds of Prey. Along with Nyman and Weibrecht, the American contingent will also include defending World Cup giant slalom title holder Ted Ligety and reigning World Cup overall champ Miller, who races independently for Team America.

Following the opening slalom of the winter in Levi, Finland, Miller, who split from the U.S. Ski Team at the outset of last winter, currently sits in second position in the overall standings by virtue of his runner-up showing in Finland and a 10th-place finish in giant slalom in Soelden, Austria.

"Bode has always done things his way," Imhof said of the Team America racer, "and it's tough to argue against the method given his success. One thing is for certain, he is once again a threat to win any race he enters and his podium record at Birds of Prey (three wins and two second place finishes) is pretty impressive."

Ligety is currently sitting in fifth position courtesy of a strong third place result in giant slalom in Soelden. He posted the second fastest time in the first run in Finland before making a critical second run mistake to end with a 22nd place result.

Unfortunately for the rest of the tour, two of last year's standouts have also enjoyed a great early season so far as Swiss teammates Daniel Albrecht and Didier Cuche recorded a one-two giant slalom finish in Soelden. Albreacht won both the super combined and giant slalom in Beaver Creek last season, while Cuche finished third in the downhill and third in the giant slalom.

The 2008 Audi Birds of Prey World Cup Race Week will feature a super-combined event (one run of slalom and one run of downhill) on Dec. 4, a downhill on Dec. 5, super-G on Dec. 6 and giant slalom on Dec. 7.

The 2008 Audi Birds of Prey World Cup Race Week is a project of the Vail Valley Foundation. For more information on Birds of Prey, visit www.bcworldcup.com. For additional information on the Foundation, check out www.vvf.org.



Comment on "Nyman looks to take final podium step at Birds of Prey World Cup" using the form below