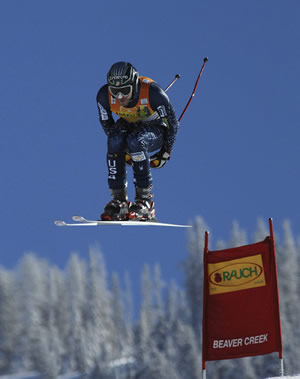 Bode Miller soars to victory on the Birds of Prey course at Beaver Creek in 2006. Miller did not podium here last year but set the pace in downhill training Tuesday.
By Dan Davis
trekkerphoto.com
Birds of Prey kicks off today: super-combined launches four days of Miller, Maier, Ligety and more
By David O. Williams
December 3, 2008 — It never fails. If you're in desperate need of snow, hold a World Cup ski race.

The fastest men on skis hit the slopes of Beaver Creek today for the first of four straight days of World Cup action on the famous Birds of Prey course, which they generally like to see super-icy and free of loose fluff. (Think about it: Would you like to hit a pile of powder going 80 mph?).

But with nearly 3 feet of new snow in the past week, course workers have been scrambling to push the stuff off to the side and create the vertical ice rink favored by top skiers such as Bode Miller and Hermann Maier.

Miller was first in what was the only day of downhill training Tuesday, smoking the field by nearly a full second. Maier, coming off a shocking win at Lake Louise, Alberta, last weekend, was fourth in training.

But the training run Wednesday was canceled because of several inches of snow overnight Tuesday and more in the forecast throughout the day. Another couple of inches are expected today when the super-combined event kicks off the extended weekend of action.

With an 11 a.m. start for the downhill portion of the super-combined, expect possible delays. The slalom portion is scheduled for 2:30 p.m., and the winner will have the best combined time from the two disciplines. Friday is the marquee event, the downhill (11 a.m.), followed by a super-giant slalom Saturday (11 a.m.) and a giant slalom Sunday (9:45 a.m.).

Beaver Creek is the only opportunity this season in Colorado to see the world's best ski racers and top medal contenders for the 2010 Vancouver Winter Olympics.

The only other North American World Cup stop for the men was last weekend at Lake Louise, and the White Circus returns to Europe for the duration of the season after Beaver Creek.

Euro-centric

Racing on home snow is a big deal for the U.S. Ski Team, which, to a man, seems to resent that the bulk of the World Cup schedule from October to March is in the alpine nations of Austria, Switzerland, Germany, France and Italy.

"Having Beaver Creek as our only race in the U.S., it's always super-important to us and we take it pretty seriously," said 2006 Olympic combined gold medalist Ted Ligety, of Park City, Utah, who leads a young U.S. team. "To be in the U.S. is really nice, because all of the Europeans get to go home every weekend and enjoy that kind of lifestyle, so it's good to take them out of their element in the U.S."

Not that traveling around Europe is that rough of a gig, especially given that the sport is so much more popular in Europe, but Americans feel at a distinct disadvantage.

"I wish we could have more races in North America, especially since it takes the Europeans out of their element," said T.J. Lanning, of Park City, Utah.

"They're so used to being able to go home every week between races and we're over there for two months at a time living out of our suitcases. Even in Canada, we at least feel close to home."

Oh, Canada

Feeling at home visiting Canada is key for the U.S. Ski Team the next couple of seasons, since the 2010 Winter Olympics will take place in Vancouver and the alpine racing will be staged at Whistler Blackcomb ski area to the north.

If Miller, the enigmatic New Hampshire native with the most World Cup wins (31) in American ski-racing history, is to brush aside his lack of Olympic medals in Italy in 2006, the 31-year-old first will have to overcome his disdain for the Games and the overemphasis Americans place on success at that single event.

The defending and two-time overall World Cup champion knows what all ski racers know, that a season of success on a five-month-long odyssey is a much more critical gauge of a skier's ability than two weeks of laying it on the line at the Olympics. That being said, it's clear America's top racers are gearing up for Vancouver and beyond.

"We all like each other, which is nice," Lanning said of the current U.S. team dynamic. "We all get along well and we all love the sport of skiing, and we have one or two guys in each discipline capable of winning. We're a really young team, so looking at 2010, I think we have a really strong team coming into Vancouver."

Ligety, who has the gold Miller lacks, said Vancouver is a great "home-snow" opportunity, but he'd love to see even more big events, such as the World Championships and the Olympics, in the U.S. during his career.

The last time the Worlds were in America was in 1999 in Vail, before the 24-year-old's career had kicked off. He did get to forerun a race at the 2002 Salt Lake City Olympics but would love the opportunity to compete on home snow at that level.

Vail and Beaver Creek likely will put in a bid to host the 2015 Worlds, when Ligety will be Miller's age now, and there's an outside shot of Denver putting in a bid to host the 2018 Winter Olympics if Chicago doesn't get the 2016 Summer Games.

"It would always be great to have a big event like that in the U.S.," Ligety said. "It's cool having an Olympics in Canada, just because that's so close and so many friends and family will be able to go there. Having it in Denver or Vail would be awesome."

Feeling right at home

Austria, the New York Yankees of ski racing, is one nation that doesn't seem to be put off by living out of duffels and the steady diet of burgers and fries in the U.S.

Last season at Beaver Creek, Austrians won two of the four races, including the downhill (Michael Walchhofer) and a podium (top three) sweep in the super-G, led by Hannes Reichelt. Swiss Daniel Albrecht won the other two events - the super combined and the GS.

It marked a near podium shutout for the U.S. at Beaver Creek, where Miller had won three straight years before being blanked last season. His best result was fourth in the super- combined. Just like last year, Miller comes to Beaver Creek winless on the young season, but last year he went on to win six races in Europe and claim the overall globe he previously held in 2005.

Miller, racing independent of the U.S. squad for his own Team America, looks strong and has been competing well this season, turning in some top-10 results. His dominance in training Tuesday at Beaver Creek could spell trouble for the Austrians.

But Maier, the famous former bricklaying, motorcycle-crashing "Herminator" who is the second-winningest ski racer of all time, might be experiencing a renaissance at the ripe old ski-racing age of 35 (he turns 36 on Sunday).

His win in the super-G on Sunday at Lake Louise was his first World Cup victory in nearly three years, giving him 54 for his career - second only to Swedish legend Ingemar Stenmark's 86 wins. Seven of Maier's victories have come at Beaver Creek.

"I'm one of the Hermann supporters. I don't have any question that he can win races," Miller told Ski Racing magazine Tuesday. "You have to remember you're talking about Hermann Maier. He's been the most dominant racer of my generation."

Lanning, who had his best career World Cup finish last weekend at Lake Louise (ninth in the downhill), said it was incredible to see Maier back on top of a podium in the super-G there.

"The most amazing thing was watching his face when he came through in first place, because he hasn't seen that in a long time," Lanning said. "In his heyday, when he was winning everything, he'd give a first pump and be psyched, because he expected it, but now he didn't expect it."

Ligety poised

Ligety has three wins and 13 podiums in his World Cup career, and two of those podiums have come at Beaver Creek, where he has been third in a slalom and third in a GS. He turned in two GS wins en route to winning the overall discipline title last season but was just off the podium in GS at Beaver Creek, finishing fourth.

"Last year wasn't the grand scheme of however many podiums we've had (at Beaver Creek) before, but we had a few good races out of Bode and (Steve) Nyman, and actually Andrew Weibrecht and myself," Ligety said. "It wasn't a bad race for us by any means, but this year, I think we can expect better things for sure."

Weibrecht, of Lake Placid, N.Y., started 53rd in the downhill and flashed out of nowhere with a daring run to finish 10th in the event. Nyman, of Provo, Utah, was second behind Walchhofer in the downhill at Beaver Creek last year - the only podium for the Americans.

A refocused Lanning

Lanning, whose previous World Cup best before his ninth in downhill last weekend at Lake Louise was a 10th in the super-combined at Beaver Creek last year, is coming off a slew of injuries in his seven years on the U.S. squad. Lanning said he is refocused and as fit as he can be this season.

"The last couple of years I've really become more professional, and this is where I want to be," said Lanning, who will compete today in super-combined along with Miller, Ligety, Weibrecht and Marco Sullivan (Tahoe City, Calif.), who was fifth Sunday in the super-G won by Maier.

"I want to be an Olympian, I want to be a world champion, this is my job and I look forward to doing it," Lanning said. "I started (training harder) a couple of years ago, but after this most recent injury (knee, last spring), I really cranked up the volume with dedication during the offseason. I've always been a dedicated skier, but it takes a lot more than that."

During his career, Lanning has blown out a knee twice, broken his ankle and ruptured a disk in his back.

Birds of Prey schedule

Today (Thursday, Dec. 4): Men's super-combined downhill, 11 a.m.; men's super- combined slalom, 2:30 p.m.

Friday: Men's downhill, 11 a.m.

Saturday: Men's super-giant slalom, 11 a.m.

Sunday: Men's giant slalom, first run, 9:45 a.m.; men's giant slalom, second run, 12:45 p.m.

* Getting there: The races are free and open to the public, but the Birds of Prey race course has a midmountain finish area and cannot be accessed by car. Free shuttle buses run every five minutes starting at 7 a.m. and continuing after the races. Buses leave both parking areas located at the base of Beaver Creek (Elk and Bear lots), dropping off at the covered bridge in Beaver Creek. From there, take the "Downhill" bus that goes to the Birds of Prey finish area. Skis are not permitted on buses, and there is no skiing access to the course or finish area.

Go to www.bcworldcup.comfor more information, or call (970) 949-1999.





Comment on "Birds of Prey kicks off today: super-combined launches four days of Miller, Maier, Ligety and more" using the form below