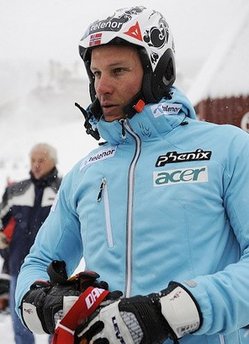 Aksel Lund Svindal of Norway conquered the Birds of Prey downhill course at Beaver Creek one year after a severe crash in training on the same course knocked him out for the season.
Photo courtesy of AFP/File Photo
Norwegian Svindal gets revenge on Birds of Prey downhill that knocked him out last year
Miller crashes, Sullivan skis out, but Nyman 7th and Lanning 13th
By David O. Williams
December 5, 2008 — Norway's Aksel Lund Svindal showed tremendous guts in rebounding from a horrific training crash here last year to win on the vaunted Birds of Prey downhill course Friday.

Svindal, the 2006-07 overall World Cup winner, almost literally showed guts last season when he crashed going approximately 70 mph off the daunting Golden Eagle jump and suffered facial fractures and a deep cut in his buttocks and abdominal area that required surgery and knocked him out for the rest of last season.

Coming out of the 13th position Friday, Svindal put down a near-flawless run on the demanding downhill course, unofficially winning with a time of 1 minute, 43.85 seconds. Marco Buechel of Lichtenstein was second (1:43.91) and Erik Guay of Canada was third (1:44.20).

"It feels good for sure," a relieved and relaxed Svindal said of his 10th World Cup victory, which came on a course that rocked his world last year. "This is definitely a race that I prepared for for a long time mentally because I knew it was going to be special to be on this hill again, but I didn't think I was going to win it."

Svindal's post-race press conference turned into a bit of a medical briefing as the cool and collected Norwegian discussed his injuries and the aftermath of the Nov. 27 crash last year that came two days after he won in Lake Louise, Canada, and was headed into his overall title defense.

"There was a really big cut on the glute that was so deep that [the doctors'] concern was that some of the intestines had been damaged, so they pretty much opened that part of the stomach to look at everything inside and see that nothing was damaged," Svindal said of a cut caused by one of his skis. "Everything was good, so they put the stuff back in there and closed it back up."

Americans came up short Friday for the second year in a row in the downhill they owned for three straight years between 2004 and 2006. Bode Miller, who won the downhill here in 2004 and 2006 and was second in 2005, clipped a gate between the Pumphouse and the Golden Eagle jump, went down hard and took several seconds before standing up and skiing off on his own power. He declined medical treatment from ski patrol and no further medical update was available at press time.

Other top Americans also had difficulties, with Marco Sullivan skiing off course and Steven Nyman making a mistake right before the Abyss that quickly scrubbed his .17-second lead at that point and knocked him into seventh. Nyman was second in the downhill here last season and third the year before.

"You look up and see all the DNF's [Did Not Finish] and you're like, what's the deal?" Nyman said of his fellow Americans. "I think it's just our pride. We want it so bad; we want to do well and we're charging and sometimes it brings out mistakes and sometimes it doesn't."

Other Americans did score some points, with T.J. Lanning of Park City, Utah, finishing 13th, right behind the legendary Austrian Hermann Maier in 12th. Scott Macartney of Kirkland, Wash., wound up 21st.

Sullivan was disappointed he didn't finish in front of a huge cheering section in the capacity crowd, but he was inspired by Svindal's comeback.

"Awesome; much respect to him," Sullivan said. "He's treated this whole week like nothing happened here last year and he's just come in super-confident. To see him spin it around and be on the top step of the podium today is amazing and a testament to the kind of athlete he is."

Svindal said his mental recovery from the crash started during the nearly two weeks he spent in the Vail Valley Medical Center.
"When I was in the hospital in Vail I had a view to the slopes, so it's like skiing is in your head," Svindal said. "So if you think about something that you know how to do and that you've been doing for a long time, then it's easier to get back into it."

Buechel, one of the oldest racers on the tour at 37, has a history of success at Beaver Creek, winning a World Championship silver medal in giant slalom here in 1999. He, too, was impressed by Svindal's resilience and ability to block out last year's crash.

"[Svindal] came down to the [Golden Eagle] jump, he was two-tenths ahead of me, and I looked at it and thought maybe he's a little bit scared, so he slows down, but he didn't at all," Buechel said. "I'm proud of him, and he really earns my respect."

Buechel's second-place finish by six-hundredths of a second encouraged him to perhaps stay on tour until the Vancouver Olympics in 2010. But he admits it gets harder every year to take the risks necessary to win in the speed events of downhill in super-G. Speeds in excess of 70 mph and being airborne on the Golden Eagle jump for 150 feet (10 feet off the snow) can plant seeds of doubt.

"To be honest, I was very, very, very nervous today," the affable Buechel said. "I'm getting older and it's getting harder to take risks. My subconscious is telling me not to take a lot of risks anymore. I wasn't afraid, but I had a lot of respect for today and I'm just happy I nailed it."

The Audi Birds of Prey World Cup continues with a super giant slalom today and a giant slalom Sunday. A super-combined race originally scheduled for Thursday but cancelled due excessive snow and poor visibility will be moved to Val d'Isere, France, Friday.


Comment on "Norwegian Svindal gets revenge on Birds of Prey downhill that knocked him out last year" using the form below