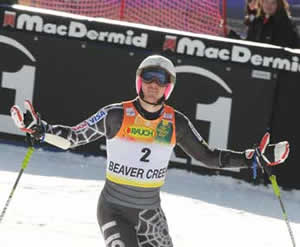 Ted Ligety of Park City, Utah, comes up one-hundredth of a second short in the giant slalom on the Birds of Prey course at Beaver Creek Sunday.
Courtesy of the U.S. Ski Team
Ligety misses Birds of Prey win by one-hundredth of a second
Austrian Raich claims 31st World Cup victory, tying Bode Miller
By David O. Williams
December 8, 2008 — American Ted Ligety narrowly missed his first win on the Birds of Prey World Cup course by one-hundredth of a second Sunday as Austrian great Benjamin Raich won a giant slalom for his first victory on the circuit in nearly a year.

Raich, the 2006 Olympic GS and slalom champ, held off a furious charge by Ligety, the 2006 Olympic combined gold medalist, for his first GS win at Beaver Creek and the 31st of his storied career.

That ties him with American Bode Miller for the sixth most World Cup career victories.

Miller, who had the fifth-fastest first-run time, recovered from an early mistake in his second run and was leading the race by 0.27 seconds when he skied off-course on the Golden Eagle face and failed to finish the race.

By then, Raich already was atop the podium after starting 23rd and laying down a perfect second run on the fast course to record a winning two-run time of 2 minutes, 24.61 seconds.

Ligety had the fastest first run in the morning, by nearly a full second, and therefore started last in the format that reverses the start order of the top 30 skiers in the second run. He had a half-second lead on Raich after the second interval but lost speed on the bottom of the course and finished with a time of 2:24.62. He wasn't sure what cost him the race.

"When you lose by a hundredth, it's 25,000 different things that could have changed the outcome," said Ligety, of Park City, Utah. "That's just how it is, that's ski racing, that's kind of what's cool about it and what's tough about it as well, so I'm still psyched to be where I am, obviously."

His podium (top three) finish was the only one for the Americans in three days of racing. Miller, the two-time and defending overall champion who won here three straight seasons from 2004 to 2006, was blanked for the second straight season at Beaver Creek - the only men's World Cup race on U.S. snow each season.

"It's fantastic being on the podium here, even though I was second," Ligety said. "It's still a really good day, and I'm super-psyched and proud of the way I skied and it's nice to be able to do it in front of the home crowd, finally get a podium here for the U.S. on home ground."

Aksel Lund Svindal of Norway, the winner of the downhill Friday and super-giant slalom Saturday and the overall World Cup winner in 2006-07 (the year after Raich won it in 2005-06), fell short of making it a hat trick in the giant slalom. He finished 0.10 seconds behind the Austrian, with a third- place time of 2:24.71.

Ligety's performance came a day after he turned in his best career super-G result, a seventh- place finish that led the Americans. He said the two courses in the GS on Sunday (each run is set differently) resembled the more wide-open course sets seen in the super-G, which, along with the downhill, is considered one of the two speed events.

Ligety is more of a technical specialist, excelling in slalom and GS.

"Both runs were really super-G sets," Ligety said. "The first run was definitely a little turnier on the bottom here and the second run was full fall-line, obviously not my specialty. You expect a downhill guy to do well on a hill like this and especially a course set like this."

The only other American to complete the second run, Tim Jitloff, of Reno, scored World Cup points for only the second time in his career.

He barely avoided disaster on the Golden Eagle jump to finish 24th, with a two-run time of 2:28.12. Jitloff sailed sideways off the lip and made an incredible recovery.

"I caught my edge and the next thing you know, I'm sailing through the air totally funky," Jitloff said. "At that point, I lost too much time to make it back up. The speed is there, and I had to go for it. If you want to make top 30 in the world, you have to go for it."


Comment on "Ligety misses Birds of Prey win by one-hundredth of a second" using the form below