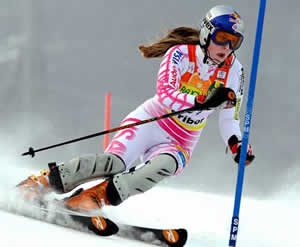 Vail's Lindsey Vonn was fourth and seventh in World Cup slalom and GS races over the weekend. Now the White Circus heads into the speed-heavy portion of the schedule, favoring Vonn to put a deadlock on her second straight overall title.
Courtesy of the U.S. Ski Team
Vonn can rest easy on 2015 retirement date; 2018 Denver Olympics appear dead in water
By David O. Williams
January 12, 2009 — Lindsey Vonn of Vail can rest easy now. She doesn't have to ski race until she's 34 years old and the calendar reads 2018.

The second best American woman in World Cup history (behind only Tamara McKinney), Vonn is on record saying she'll likely retire after the 2014 Winter Olympics in Sochi, Russia. But if Vail and Beaver Creek land the 2015 World Championships, she might hold on one more year.

Then RealVail.com posed the question of whether the 24-year-old
defending overall World Cup champion would consider hanging around until 2018 if Denver landed the Winter Olympics that year. She said she would certainly consider it.

"It's definitely possible," Vonn said last summer. "It's just that I'd rather not be away from my family, and I want to be 100 percent focused on skiing at the same time."

Vonn, who finished seventh and fourth in World Cup giant slalom and slalom races in Slovenia over the weekend and is very much in the chase to defend her overall title (only a little more than 100 points out of the lead), doesn't have to worry about 2018 now.

The United States Olympic Committee in Colorado Springs last week announced it has no intention of pursuing Denver's hoped-for 2018 Winter Olympic bid because the organization is only concentrating on Chicago's 2016 Summer Olympic bid.

"Our sole focus is on supporting Chicago and its bid for the 2016 Games," USOC spokesman Darryl Seibel told the Rocky Mountain News on Jan. 7. "We have given absolutely no consideration to any other bid."

The International Olympic Committee (IOC) will pick the 2016 host on Oct. 2, two weeks before the deadline for receiving applications for the 2018 Winter Olympics, and the Windy City may now be a frontrunner among the four finalists because of the Barack Obama factor and his Illinois ties.

Denver, whose voters rejected the 1976 Winter Games over fears about lack of funding and environmental impacts, was in the mix with Salt Lake City, Utah, and Reno, Nev., for 2018. Now it will have to wait until at least 2022.

That's disappointing news for Colorado's international sports
organizing community and some ski-town politicians who thought the 2018 Games could bring infrastructure improvements such as Interstate 70 expansion and a maybe even a mountain mass-transit rail system.

"I look at how Salt Lake got their interstate highway system rebuilt in anticipation for the Salt Lake City Olympics (in 2002), and I think having a new, state-of-the-art, world-class transit system to the mountains would be essential for a really successful bid for the 2018 Winter Olympics," former Vail Resorts president and current Vail Town Councilman Andy Daly told RealVail.com in June.

The miles and miles of condos and strip malls predicted by
Olympic-opponent and former Gov. Dick Lamm invaded the mountains anyway since 76, and some Olympic proponents felt the IOC's statute of limitations was up on the controversial vote that made Denver the only city to ever be awarded the Games and then reject them. Others disagree.

"My guess is Denver shot themselves in the foot in 1976," two-time Olympic ski-racing medalist Phil Mahre told RealVail.com. "To win the bid and then bail probably has left a bad taste in the IOC's mouth. Does Denver really want to go down that alley again?"

Apparently so. Robert Cohen, chairman of the Metro Denver Sports Commission board of directors, told the Rocky last week he's still optimistic about future Denver bids.

"In the short term, it's discouraging. But our mission has been long term," Cohen said. "This is like running a marathon. Every mile doesn't go the way you planned it. But I think we're doing all we need to do. I'm excited by what we've done. I'm more encouraged than discouraged."

Daly told RV that any Denver bid should come with the blessing of whoever]s governor at the time. Otherwise, it will be 1976 all over again.

"We had Gov. Lamm, 'Duty to Die Dick,' in the office at that time (in the 70s), and I think we would be well-served to understand the position of our governor before we even finalized an attempt to go forward with the Olympics," Daly said.


Comment on "Vonn can rest easy on 2015 retirement date; 2018 Denver Olympics appear dead in water" using the form below