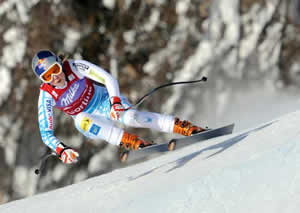 Vail's Lindsey Vonn was second in a downhill Saturday and 10th in a GS Sunday to extend her lead in the race to defend her overall World Cup title.
Courtesy of the U.S. Ski Team
Vonn second in downhill, 10th in GS in Cortina, building on overall lead
Four American men crack top 25 in famed Hannenkahm downhill
By realvail.com
January 25, 2009 — CORTINA d'AMPEZZO, Italy – Ski Club Vail product Lindsey Vonn built on her overall lead in the Audi FIS World Cup Sunday, finishing 10th in a giant slalom in Cortina d'Ampezzo. Kathrin Zettel picked up the win to lead an all Austrian top three.

Vonn's top 10 in the GS – the only event she's never won on the circuit – came a day after a near miss in the downhill on Saturday when she finished second to Switzerland's Dominique Gisin.

The previous weekend Vonn won a combined event – her third victory of the season – to give her 16 career wins headed into today's super-G, just two short of Tamara McKinney's American record.

Vonn was fifth out of the first run Sunday, but some contact with a snow shelf slowed her down.

"The course crew did a great job getting the course ready with the meter of snow that fell, but it was still pretty soft in sections and it shelved up," Vonn said. "Unfortunately I caught one of those shelves and I went down on my hip on a flat section in the middle of the course. I just did my best to get down after that. It was important to get the points and it was still a top 10, which is great."

According to Women's Alpine Head Coach Jim Tracy, the hip check is a minor thing that Vonn can learn from.

"She knows she can ski well. As usual, eliminate the little mistakes and good things can happen," Tracy said.

For Tracy, the course in Cortina is challenging in comparison to other World Cup venues. When athletes have been on the road for a long period, it can test them.

"This course is tough. It's the longest one they run. The second run alone was 1:29, which is extremely long," Tracy said. "The women who have been doing all the events are starting to get tired."

After her struggle in the giant slalom, Vonn is happy to retain her status in the World Cup standings and looks forward to trying to extend her lead today in a super-G.

"I'm happy to keep the points lead and to extend on it. Giant slalom is my weakest event," Vonn said. "Super-G is one of my strongest events and I can go for the win. I definitely expect to be on the podium and I'll be shooting for it. Hopefully the course holds up well and I can put down a good run."

On the men's side, Bode Miller (Franconia, NH) was the top American in Saturday's Hannenkahm downhill in Kitzbuehel, Austria, tying for fourth place with Swiss rival Didier Cuche. Didier Defago took his first win in skiing's Super Bowl to mark his second straight victory after winning last weekend's Lauberhorn.

Erik Fisher (Middleton, ID) was 11th in his first race at Kitzbuehel, while Andrew Weibrecht (Lake Placid, NY) and Marco Sullivan (Squaw Valley, CA) were 22nd and 24th respectively.
No Americans finished in Sunday's slalom at Kitzbuehel.

Rain overnight Friday made the downhill course hard and slick Saturday, adding to the list of difficulties racers had to deal with. Icier terrain, especially in the tough technical sections, forced athletes to ski with even more aggression and grit. As Fisher said, "You just had to get over your boards and hang on."

For Fisher, finishing in 11th place was a surreal experience. Men's Alpine Coach Sasha Rearick said his performance went way beyond expectations.

"To come here for your first time is about experience. You come down and you want to overcome the fear of the course. It's not about how fast you are," Rearick said.

But Fisher, 23, who is spending his first season on the World Cup (and coming off a torn ACL to boot) started defying expectations before the New Year when he placed seventh at a downhill in Val Gardena.

"For him to come down and perform that way is truly awesome. For him to execute the plan like that from top to bottom, with no wild sections, is a huge success," Rearick said.

"It's my first season on the World Cup. I'm thrilled to be skiing as well as I am, especially after the knee injury," Fisher said.

"This is surreal to me right now. Hermann (Maier) coming down and only getting me by four hunnies - it's a cool feeling," Fisher said.

Fisher said he hadn't set any expectations for the race, but knew he'd have to ski with grit after the course conditions changed overnight.

"It was a lot faster and bumpier today. I wanted to have a clean run since it was my first time here and make it to the finish line safely," Fisher said. "It was tough and icy, basically you have to get your feet under you and hold on."

Weibrecht was also racing the Kitzbuehel downhill for the first time. Starting with bib number 47, he flew to 22nd place, making him the athlete with the highest start number to make it inside the top 30.

"It was great, the whole aura behind the race coming in and the atmosphere while I was here, it's been overwhelming," Weibrecht said.

Friday Weibrecht was 11th in the super G at Kitzbuehel and it was his best speed finish since 2007 when he rocketed to 10th in the Birds of Prey Downhill at Beaver Creek.

"I was really happy all week with my training runs. Today had a little to be desired. It got darker and I missed some of the terrain, but I know this is a good course for me, Weibrecht said. "My Mom especially will be happy that I made it through this weekend alive."

Rearick said Sullivan, who was coming off a podium performance in Wengen last week, might have tried too hard Saturday.

"For Marco this was a big goal for him. Maybe put too much pressure on himself, and tried a little too hard."

Rearick said the race would be a learning experience for Sullivan, who is more than capable of winning a big race like Kitzbuehel.

"We need to go back and talk about his approach. The skiing approach is good, but we need to teach him to try less hard in the big events," Rearick said.

TJ Lanning (Park City, UT), started number three, but crashed into a fence above the traverse. After a course hold and being evacuated from the course by helicopter for safety reasons, he was taken to a nearby hospital but released. He will return to the USA to be evaluated for a possible knee injury.


Comment on "Vonn second in downhill, 10th in GS in Cortina, building on overall lead" using the form below