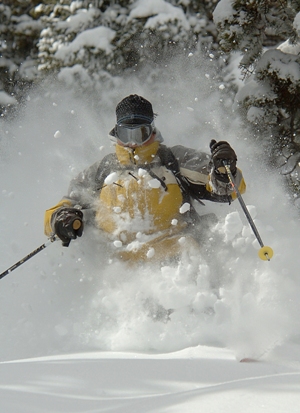 Days like this are somewhat of a rarity for the average snow rider, so super-fat skis only make sense if you can afford an extra pair in your quiver.
Dan Davis
trekkerphoto.com
Fun, comfort should drive gear decisions
Skis keep getting wider; boots keep getting softer
By David O. Williams
September 4, 2006 — The No. 1 rule when buying new snow-riding gear – more critical than virtually any other criteria, from cost to appearance to performance – is to remember that the sport is supposed to be fun.


If it doesn't increase your fun factor, then you probably don't need it, the experts say.


To that end, all the ongoing trends in new gear this coming season focus on ease of use and comfort. Skis keep getting shorter and wider, boots keep getting softer and more comfortable and snowboards are all about versatility – from all-mountain to park-and-pipe rides.


"People want to have more fun," said Billy Schoff, hard-goods manager for Gorsuch, with stores in Vail, Beaver Creek, Keystone and Aspen. "The whole idea of this sport is to put a smile on your face - to make people have a much more enjoyable experience - and the newer skiers allow people to do that."


SUV's for your feet


Expert skiers may still be riding 185-centimeter boards (considered long by shaped ski standards) but the average weekend warrior is trending more toward sub-180's because they're a little quicker to respond and therefore easier to turn.


That's OK, says Schoff, because shorter and wider generally translates to more fun.


"It just gives you more stability and allows you to ski more difficult snow conditions that may have tripped you up in the past," he said. "It's like your SUV; it works well in all conditions."


Versatile, mid-fat, all-mountain skis will continue to carry the day, he maintains, because the average skier can only go so wide before reaching a point of diminishing returns.


Schoff says the Dynastar Legend 8000 is just about the hottest of this season's new lot of all-mountain boards, providing so much versatility that it performs well in powder, crud, hard-pack and will even stand up in the bumps.


"They may not look like (former Olympic mogul skiers) Toby Dawson and Jeremy Bloom, but they can still have a good time in the bumps," said Schoff, who in the mid-fat category also recommends the Volkl Unlimited AC series with Internal Power Technology (bindings integrated into the core of the ski) and K2's Apache series.


For those who insist on a super-fat ski for those four or five truly epic powder days a year, Schoff says the Dynastar Legend Pro Plus XXL (109 millimeters under foot) and the even wider K2 Pontoon (130 millimeters under foot) won't disappoint.


But in the real world, where every day is not a powder day, Randy Galer, hard-goods manager at Pepi Sports in Vail, likes the new skis from K2, Volkl, Fischer and Salomon.


"K2 and Volkl seem to be the top skis out there right now; they're real hot right now and a lot of other companies are not," he said, giving a particular nod to the all-mountain versatility of the Volkl AC4.


But he adds that Fischer, always a leader in World Cup ski racing, is making a recreational-ski comeback, and Salomon has created a buzz with its new wood-core X-Wing series, particularly the XW Tornado.


Hottest new accessory? Both Gorsuch and Pepi Sports touted the new Giro Bluetooth-enabled line of helmets.


Booty call


When it comes to ski boots, Russ Shay, an owner of Surefoot, with stores in Vail, Beaver Creek, Keystone, Copper Mountain and Breckenridge, says comfort is critical.


"The whole trend is softer boots that are easier to get on and off," Shay said. "Its all about comfort and performance and getting the two intertwined. You don't want to go so much with comfort that you give up performance and you don't want to give up too much performance for comfort."


New technology, such as the "cold molding" process, which allows soft and hard plastics to be blended together, is revolutionizing boot comfort. But Shay says the key still is getting a custom fit.


Surefoot, whose top sellers in Vail continue to be Lange, Nordica and Technica (although the new Salomon line is coming on strong), buys only boot shells from manufacturers and custom fits the bladders (or liners) to customers at no added cost.


New technology in plastics also has allowed for transparent boots in much funkier colors, but Shay says that trend is purely cosmetic, aimed more at skiers who want to bust out of their dreary, black-boot rut.


He adds that the coolest new product this season is the Therm-ic remote-control boot heater, which allows adjustment without bending over.


Park power


Not surprisingly, Mountainwave Snowboards in Breckenridge – a ski area always ranked in the top tier of the nation for terrain parks and half-pipes – has seen a strong move toward freestyle boards in recent years.


"The need for all-mountain boards is consistent but we're also seeing more freestyle-oriented boards for getting into the park," said Kate Kearns, a manager at Mountainwave.


"The average rider is seeing freestyle more and more on TV and wanting to get into that."
One of their top freestyle sellers last season – and a board Kearns expects to do well again this season – is the Evo from Never Summer, a Denver-based manufacturer.


Kearns says Burton's entire lineup always does well, but if this season is another big one for snowfall, their Malolo and Fish models – both tapered in the tail and wider in the nose for deep powder riding – should sell fast.


"We're hoping those do well but those are totally weather-dependant," Kearns said. "If we have another huge winter, people will be looking more for powder boards."


Comment on "Fun, comfort should drive gear decisions" using the form below