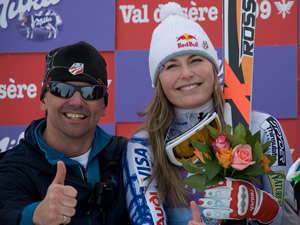 Lindsey Vonn gives the thumbs up after winning a World Championships downhill Monday. She later injured the same thumb grabbing a broken champagne bottle.
Courtesy of the U.S. Ski Team
Vail's Vonn cuts thumb celebrating long-awaited 'big-event' downhill win
Champagne-bottle incident sends 24-year-old to the doc for four stitches, surgery
By David O. Williams
February 10, 2009 — Getting her first "big-event" gold medal in the super-G last week definitely was a thrill, Lindsey Vonn said Monday, but what she really wanted all along was a downhill win.

The Ski Club Vail product who now lives in Park City, Utah, got it in style Monday, nailing a near-flawless run in Val d'Isere, France, and beating the field by more than half a second in the World Ski Championships downhill.

But Vonn's celebration wasn't as smooth. She cut her right thumb on a champagne bottle after her victory

Vonn required four stitches to close the wound, but team officials said they did not expect her to miss her remaining events, giant slalom and slalom. Then on Tuesday, according to the Associated Press, she had surgery on the tendon in the thumb. She still is not expected to miss the slalom and GS.

Vonn left Val d'Isere to see specialist Dr. Christian Fink near Innsbruck, Austria, the AP reported Tuesday.

"The surgery went fine and we're appreciative of the care she had from Dr. Fink and Privatklinik Hochrum," U.S. Ski Team medical director Richard Quincy said. "She will have a splint and should be able to grip her ski pole. We anticipate she will be ready to compete in Saturday's slalom and possibly the giant slalom Thursday."

Vonn will reportedly remain in Austria overnight and return to Val d'Isere Wednesday. She was already expected to skip the team event Wednesday.

"I really think I'm safer skiing downhill at 85 mph," Vonn said. "I'm in a little bit of pain, but this shouldn't slow me down."

According to the AP, "Vonn was hurt when she was unable to open a champagne bottle because the cork broke. Someone then used a ski to remove the rest of the cork, breaking part of the bottle in the process. Vonn grabbed the bottle as the champagne poured out, not realizing it was cut."

Monday's win gave Vonn four championship medals (two golds this year and two silvers in Are, Sweden, in 2007) to tie Tamara McKinney for the most medals by an American woman at the worlds, which are considered on par with the Olympics in ski-racing circles. Bode Miller has the record for most championship medals for an American with five.

Vonn's dominating performance Monday also tied her with Andrea Mead Lawrence's American mark of two golds at one world championships. Mead Lawrence set her mark in Oslo, Norway, in 1952, when the worlds and the Olympics were one and the same.

"I feel like I'm breaking a lot of records, but I'm just doing my job, and I love what I do," a typically gracious Vonn said on a conference call after her victory.

Vonn, 24, grew up idolizing legendary Idaho speedster Picabo Street, who won a gold medal in downhill at the 1996 worlds in Sierra Nevada, Spain, and followed it with a gold in the super-G at the 1998 Olympics in Nagano, Japan.

"Downhill is my favorite event and it always has been since I met Picabo Street," Vonn said. "She really inspired me to want to be a ski champion, and her best event was always downhill, and for some reason I just have always been drawn to downhill. It's the speed, the adrenaline, the rush of it all. It's amazing."

Street, who retired after the 2002 Winter Olympics in Salt Lake City (where Vonn debuted as a 17-year-old with a sixth in the combined), never got an Olympic gold in downhill. She took silver in the event at the 1994 Olympics in Lillehammer, Norway.

Vonn now has twice as many regular-season World Cup wins as Street, who finished with nine, and seems acutely aware she needs an Olympic gold to complete her already storied career.

Vonn's result in Salt Lake City was the best by an American woman in 2002. But in 2006 in Turin, Italy, Vonn famously crashed in a training run and briefly was hospitalized (with Street by her side) before coming back to finish off the podium and out of the medals in her events.

"I've always wanted to win at a big event in downhill, and I feel like this was a big breakthrough for me," said Vonn, who acknowledged she had a bad case of nerves before the start of Monday's race.

"I was actually pretty nervous, but my husband (former U.S. Ski Team member Thomas Vonn) was with me there in the start and he helped calm me down and we were able to work through it," Vonn said. "I'm definitely going to take what I learned today into the Olympics, and, hopefully, I'll be able to do well there."

The 2010 Winter Olympics in Vancouver, British Columbia, are less than a year away.




1 Comment on "Vail's Vonn cuts thumb celebrating long-awaited 'big-event' downhill win"