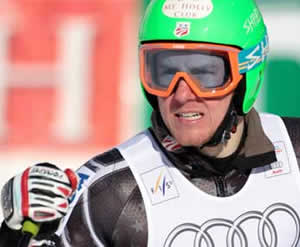 Ted Ligety turned in a sizzling second run Friday to capture a bronze medal in the giant slalom at the World Championships in Val d'Isere, France.
Courtesy of the U.S. Ski Team
Ligety smokes second run, snags Worlds GS bronze medal
Vail's Vonn will race in Saturday's slalom despite champagne-bottle thumb injury
By realvail.com
February 13, 2009 — VAL d'ISERE, France - Ted Ligety (Park City, UT) blazed from ninth place to take the bronze at the 2009 FIS Alpine Ski World Championships giant slalom Friday. He was edged by Swiss skier Carlo Janka, who won, and Austria's Benjamin Raich, who took silver.

Ligety, the defending World Cup giant slalom champion and combined gold medalist from the 2006 Winter Olympics, was caught off-guard by some rough spots on the first run and was 1.71 seconds behind Janka heading into the second run.

Bode Miller, the 2003 world champion in GS, had an even rougher first run, finishing a full second behind Ligety in 18th. Going all out in the second run, he missed a gate and was a DNF.

With less than a year to go before the 2010 Winter Olympics in Vancouver, British Columbia, Canada, the U.S. now has three medals atthese Worlds.

Vail's Lindsey Vonn, already holding gold in the super-G and downhill, will go for her record-tying fifth career Worlds medal (Miller has the most ever for an American with five) in Saturday's slalom.

Vonn is racing despite surgery on her thumb that she cut on a champagne bottle celebrating her downhill win on Monday. Resi Stiegler (Jackson Hole, WY) will get her first start since Dec. 28, 2007, and Vail's Sarah Schleper also is expected to start.

Comment on "Ligety smokes second run, snags Worlds GS bronze medal" using the form below