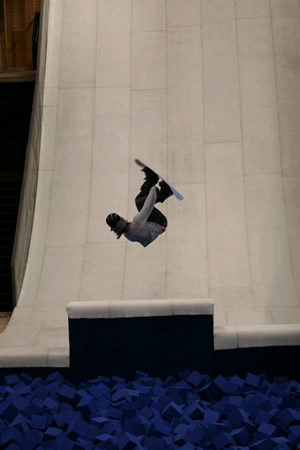 Lean moves like this in the safety of Camp Woodward at Copper Mountain before trying them in a real half-pipe. The Camp opens Saturday.
Courtesy of Copper Mountain
Woodward at Copper action-sports training facility grand opening set for Saturday
By realvail.com
February 27, 2009 — Copper Mountain -- Woodward at Copper, the first action sports training facility dedicated to Terrain Park and Pipe progression, is opening its doors to the public Saturday, Feb. 28.

Woodward at Copper - a collaboration between Copper and Camp Woodward – will offer Winter Camp Days, Drop-In Sessions and One Hit Wonder intro courses beginning March 1.

Woodward at Copper will also offer week-long Summer Camps where campers will enjoy The Barn and Catalyst Terrain Park – the summer edition.

The Woodward at Copper Barn is a 20,000 square foot indoor training facilit, where campers will have access to Snowflex® ramps, foam pits, trampolines, spring floors and indoor skateboard features.

Woodward at Copper Launch Schedule - Saturday, Feb. 28:

Noon, 2 p.m. & 8 p.m. -- One Hit Wonder Sessions will be offered at 50 percent off the regular price - a 90-minute introductory course designed to familiarize and help guests become comfortable with the trampolines, foam pits, spring floors and Snowflex® ramps in The Barn.

Noon to 10 p.m. -- Free skateboarding sessions in The Barn

4 - 8 p.m. -- Celebrate Woodward at Copper Launch with a Party, including staff demonstrations and exhibitions on all the equipment, ski and snowboard movies, a DJ, music, food, drinks and much more.

7 p.m. -- Fireworks show at the Barn

If you are unable to make it to the Woodward at Copper Launch, check out the Grand Opening season of Woodward at Copper, happening all season long.

Woodward at Copper Summer Camp Information

Woodward at Copper will offer week-long Summer Camps in 2009. During their stay, campers will spend time training in The Barn and in Copper's Catalyst Terrain Park – the summer edition. Campers will stay in Copper's EDGE building close to The Barn and the mountain. The EDGE includes a dining facility and common area for activities.

Summer Camp Session Dates*:

Session 1…May 30 - June 6

Session 2…June 7 - 13

Session 3…June 14 - 20

Session 4…June 21 - 27

Session 5…June 28 - July 4

Session 6…July 5 - 11

Session 7…July 12 - 18

Session 8…July 19 - 22

Session 9…July 28 - Aug 1

Session 10…Aug 2 - 8

*subject to change

Book March Camp Days Now

Guests can sign up for Winter Camps Days, Drop-In Sessions and the One Hit Wonder intro course now. For the latest info and to sign up for e-mail updates, visit www.WoodwardatCopper.com or call (866) 534-7444 to register.

Comment on "Woodward at Copper action-sports training facility grand opening set for Saturday" using the form below