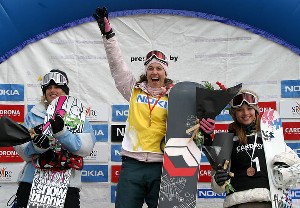 Clair Bidez of Minturn, right, was third in a World Cup halfpipe event in New Zealand Sept. 1, behind Lindsey Jacobellis, left, in second and Manuela Laura Pesko of Switzerland.
Oliver Kraus
fis-ski.com
Minturn's Bidez earns first World Cup podium
Halfpipe rider third in New Zealand event behind Jacobellis in second
By realvail.com
September 5, 2007 — CARDRONA, N.Z. – Reigning Junior World Championships halfpipe gold medalist Clair Bidez of Minturn grabbed her first World Cup podium Saturday, Sept. 1, in the first ever World Cup snowboard event held in New Zealand.


Bidez was third in the halfpipe behind defending World Cup snowboardcross champion Lindsey Jacobellis (Stratton Mountain, Vt.) in second and women's world champion Manuela Laura Pesko of Switzerland in first.


"Both Lindsey and Clair came up just a bit short on the last part of their final run," said U.S. halfpipe coach Mike Jankowski. "But they were going for the win and that's what we want. That's the Team spirit. We do it because we love it. We have the passion for our sport. And we want to win."


Laura Pesko of Switzerland turned in a nearly flawless second run to edge Jacobellis with a score of 42.1. Jacobellis had a 41.7, and Bidez completed the podium at 39.7.


Bidez, 20, had a better first run as she secured her first World Cup top-3 result. Riders are judged on the better of their two runs.


"I'm so stoked to be riding with Lindsey," Bidez said of competing alongside the rider who famously won the silver medal in the first boardercross at the 2006 Winter Olympics. "The snow was soft and falling apart in training this week, and it got soft today ... but it held together well enough. I certainly can't complain."


Jacobellis grabbed headlines in Bardonecchia, Italy, in 2006 when she threw an unnecessary move on a jump at the bottom of the boardercross course and blew an Olympic gold medal. Jacobellis shrugged that event off last season and is clearly back on course this season. She said she felt stronger in her first run in New Zealand over the weekend.


"My better run was my first," Jacobellis said. "I was able to put my tricks together. I had a blast. It was awesome weather - the best we've had down here and that makes it so much easier to see everything. The winds didn't pick up until the last run. It was snowing in practice and through the first run, but then it stopped. It's always nice to start the season with a podium."


Ryoh Ayono of Japan won the men's contest with 45.1 points off his first run. No American man made it on the podium, but two local riders did crack the top 30. Bidez's brother, Dylan, 16, was 21st, and Broc Waring of Edwards was 27th. Bidez is a Battle Mountain High School student, and Waring attends Vail Mountain School.


Jankowski said the weather, which had been problematic through much of the week at this resort between Wanaka and Queenstown, had been expected to be nasty, but it cleared in time for good conditions. "It turned out to be a great day for the riders; the pipe was exceptional and the riders were able to show what they can do," he said.


The snowboarding World Cup schedule resumes Sept. 26-29 in El Colorado, Chile, with a pair of SBX competitions for men and women. The next halfpipe World Cup is scheduled for Nov. 2 in Saas Fee, Switzerland.


Comment on "Minturn's Bidez earns first World Cup podium" using the form below