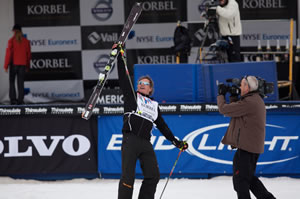 Austrian ski racing legend Franz Klammer celebrates his team's Ford Cup victory at the 2008 American Ski Classic.
Courtesy of Brian Maloney
www.vvf.org
Legends of ski racing converge on Vail for 27th annual American Ski Classic
By realvail.com
March 15, 2009 — Perhaps it was fate that brought the idea and the venue together in 1983, resulting in the creation of Vail's American Ski Classic.

Maybe it was just the right time and the right place for something magical to occur. Or perhaps, it was as simple as good friends coming together to celebrate their love of skiing and the Vail Valley.

Whatever the reason, the Korbel California Champagne American Ski Classic will celebrate its 27th anniversary March 19-21.

"We are thrilled to welcome back Korbel California Champagne as our title sponsor again this year," said Michael Imhof, Vice President of Sales and Operations for the Vail Valley Foundation.

"Korbel is not only a high profile premium brand, but they also share our same philosophy when it comes to an event like the American Ski Classic. It is all about celebrating great friends and a great sport.

"The Korbel California Champagne American Ski Classic is America's original pro/am celebrity ski event," Imhof added. "It combines fast-paced enjoyable racing action with a wonderful social schedule, all for a very worthy cause. The Ski Classic celebrates the fact that fun and camaraderie are truly the essence of the sport of skiing."

The 2009 edition of the Korbel California Champagne American Ski Classic will kick off on Thursday, March 19, at Vail Mountain's Golden Peak with the Volvo Legends Giant Slalom, a head-to-head competition, featuring some of the greatest names in ski racing history.

If the fast-paced action on-course isn't enough to whet the appetite, the Bud Light Street Beat free performance, featuring legendary bluesman Taj Mahal, will be moved for the evening from Vail Village to the Korbel California Champagne American Ski Classic Finish Stadium at Golden Peak, with the band providing a rocking finale for the racing action.

The Legends will move into the role of team captains for the final two days of the Korbel California Champagne American Ski Classic as the Korbel Ford Cup celebrity team competition takes center stage at Golden Peak on Friday, March 20, and Saturday, March 21.

The five-member teams will attempt to work their way through a maze of head-to-head competition over the course of the two days, emerging with not only the Korbel Ford Cup team title, but a year's worth of bragging rights to boot.

The stakes will be both big and important Friday evening as the second annual Hold 'Em For Hope benefit dinner and auction will raise money to support the Vail Valley Foundation's numerous community-wide initiatives. Tickets are available for $100 and include a Las Vegas-style dinner, live and silent auctions and an array of casino games.

A very special ceremony will round out the 2009 Korbel California Champagne American Ski Classic social festivities Saturday evening as one of America's most prolific ski racers will be honored as Vail's own Cindy Nelson is inducted into the International Ski Hall of Fame at the Legends Banquet.

The 1976 Olympic downhill bronze medalist in Innsbruck, Nelson also captured a silver World Championships downhill medal in 1982. In all, Nelson collected a total of six World Cup victories and seven U.S. national titles during her 14-year career on the U.S. Team.

The 2009 Korbel California Champagne American Ski Classic is a project of the Vail Valley Foundation. For additional information, contact (970) 949-1999 or visit www.vvf.org.


Comment on "Legends of ski racing converge on Vail for 27th annual American Ski Classic" using the form below