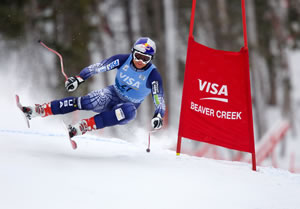 Daron Rahlves, the most successful speed-event skier in U.S. racing history, still competes on the skier-cross circuit and is now an American Ski Classic rookie.
Courtesy of Jonathan Selkowitz/Vail Valley Foundation
Rahlves heads rookie class of legends at Vail's American Ski Classic
By realvail.com
March 17, 2009 — To say that the freshman class of Legends of Skiing at the 2009 Korbel California Champagne American Ski Classic comes in on the fast track would definitely be an understatement. These three rookies have speed to spare.

Heading the list of new legends will be American Daron Rahlves, the most decorated U.S. Downhill and Super-G skier in history. With a career total of 12 World Cup victories, including two on Beaver Creek's infamous Birds of Prey racecourse, Rahlves also owns a Super-G gold medal from the 2001 World Alpine Ski Championships, as well as a pair of wins on the legendary Hahnenkamm course in Kitzbuhel, Austria.

"We are thrilled that Daron will be able to join us for the 2009 Korbel California Champagne American Ski Classic," said Michael Imhof, Vice President of Sales and Operations for the Vail Valley Foundation.

"He enjoyed a tremendous career as a World Cup skier and now he has another opportunity to represent the U.S. at the Vancouver Olympics as Ski Cross athlete. His wins on Birds of Prey will always be a wonderful memory for all of us involved."

From an international perspective, Austria's Fritz Strobl and Italy's Isolde Kostner will join the Korbel California Champagne American Ski Classic festivities for the first time as well.

The 2002 Olympic Downhill gold medalist at the Salt Lake Games, Strobl collected a career total of nine Downhill and Super-G victories, including a Downhill win at the 1997 World Cup Finals in Vail.

He also earned a pair of World Championships medals in 2007 with a silver medal performance in Super-G in Are, Sweden and a gold in the nations team event. Strobl still holds the record for the fastest time ever recorded on the Hahnenkamm course in Kitzbuhel in the 1997 race.

An 18-year-old World Cup rookie, Kostner burst onto the scene in a big way, bagging a pair of Olympic bronze medals in Downhill and Super-G at the 1994 Lillehammer Games. She would finish her illustrious career with a total of 15 World Cup victories, capturing back-to-back World Cup Downhill titles in 2001 and 2002.

The 2002 season also produced her third Olympic medal, a Downhill silver in Salt Lake, while her collection also includes a trio of World Championships Super-G medals.

"We are especially excited to welcome Fritz and Isolde to the Korbel California Champagne American Ski Classic," Imhof concluded. "Fritz is certainly among the greatest Austrian downhillers of all time, while Isolde really dominated the women's speed events during her wonderful career."

The Legends of Skiing will compete in the Volvo Legends Giant Slalom on Thursday, March 19, to officially kickoff the 2009 Korbel California Champagne American Ski Classic at Vail Mountain's Golden Peak. They will then take on the role of team captains for the Korbel Ford Cup celebrity team races, contested on Friday and Saturday, March 20-21, also at Golden Peak.

A special edition of the Bud Light Street Beat free concert series, featuring legendary bluesman Taj Mahal, will follow the Volvo Legends of Skiing Giant Slalom at 6 p.m. on Thursday evening.

The Korbel California Champagne American Ski Classic is a project of the Vail Valley Foundation. For additional information on the Korbel California Champagne American Ski Classic, visit www.vvf.org.



Comment on "Rahlves heads rookie class of legends at Vail's American Ski Classic " using the form below