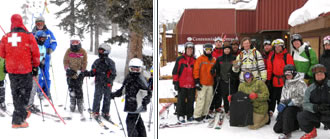 In this montage of Beaver Creek Ski Patrol photos, patrollers educate the skiing public on common safety sense.
Courtesy of Beaver Creek Resort
Vail, Beaver Creek set to conduct ski patrol testing for 2009-10 ski season
By realvail.com
March 20, 2009 — Both Vail and Beaver Creek Ski Patrols are hosting their annual ski test tryouts beginning Saturday, March 21.

Vail's continues Wednesday, March 25, and Friday, March 27, and Beaver Creek's continues Saturday, March 28.

Strong skiers, riders and telemark skiers will be considered for new-hire positions at both ski areas for the 2009-10 ski season.

"We're looking for strong skiers, snowboarders and telemark skiers who demonstrate solid skills on a variety of terrain and conditions across Beaver Creek Mountain," said Addy McCord, Beaver Creek Ski Patrol director.

"Current members of the Beaver Creek Ski Patrol will be evaluating candidates on snow, and they will share their knowledge and experience with interested participants."

The ski test at Beaver Creek includes a morning meeting and introduction at PHQ, the ski test, which consists of two to three runs taken in variable conditions and evaluated by four or five members of Beaver Creek's current patrol team, and a closing meeting.

Participants will be advised of test results at the closing meeting. Those who pass the physical test will be invited back for a hiring clinic on Sunday, March 29, to shadow a patroller, learn basic ski patrol skills and fill out a job application. Hiring of patrol positions takes place each fall, prior to ski season.

Both resorts hires a handful of new patrollers each year to join its the current staff. Ski Patrol opens and closes the mountain each day and provides emergency medical care, skier responsibility education and enforcement, mitigation of avalanche hazard, guest relations and assistance. Members also ski on average 120 days per year.

"We're fortunate to consider Beaver Creek Mountain our office; our team loves to work outdoors, we work hard, we help people everyday and there's great camaraderie among our staff," added McCord, who heads up a 40-member team.

Vail Ski Patrol's annual ski testing will begin on Saturday, March 21 and continue on Wednesday, March 25 and Friday, March 27. The Vail testing follows a format similar to Beaver Creek's.

"The ski tests offer a rare opportunity to join a tight-knit group of patrollers who ski more than 100 days per year on Vail Mountain while assisting and interacting with guests," said Julie Rust, director of Vail Ski Patrol, Yellow Jackets and Community Guest Service. "With 5,289 skiable acres to patrol, each day of the season brings something new and exciting for Vail Ski Patrol."

Interested skiers are encouraged to sign up in advance with Vail Ski Patrol either by visiting Patrol Headquarters at the top of the Mountaintop Express Lift (Chair 4) or by calling (970) 479-4610.

On the test days, skiers should meet at the lower patrol room at Mountain Plaza in Vail Village at 8 a.m. ready to ski. The tests will take place from approximately 9-11 a.m. and applicants will be evaluated individually on three to four ski runs.

Those who pass the ski test must plan to attend the three-day Vail Ski Patrol Academy, which will take place March 28-30. The Academy provides comprehensive hands-on training and includes a general mountain operations overview, first aid, avalanche mitigation, lift evacuations and running toboggans.

Participants must attend all three days to be considered for the 2009-10 Vail Ski Patrol team. For more information, call Vail Ski Patrol at (970) 479-4610 or stop by Patrol Headquarters at the top of the Mountaintop Express Lift (Chair 4).

Anyone interested in Beaver Creek testing should contact Beaver Creek Ski Patrol at (970) 845-6610. Advance reservations are required. Participants will meet at 9:30 a.m. at Patrol Headquarters at the top of the Cinch Express Lift (#8) on Saturday, March 21 or Saturday, March 28.




3 Comments on "Vail, Beaver Creek set to conduct ski patrol testing for 2009-10 ski season"