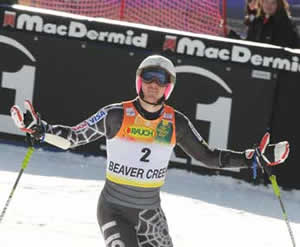 Top athletes like Ted Ligety of the U.S. Ski Team, a 2006 gold medalist at the Winter Olympics in Torino, Italy, love to perform on Beaver Creek's famous Birds of Prey course.

Foundation, Vail Resorts promote Vail Valley as international sports venue at Sport Accord
By realvail.com
March 25, 2009 — The Vail Valley Foundation and Vail Resorts will have a presence at one of the world's largest annual international sport gatherings as the 2009 Sport Accord opened Monday, March 23, in Denver.

The two organizations will be staffing a joint Vail Valley booth in the exhibition area of the conference, which runs through Friday, March 27.

Organized by the Denver Metro Sports Commission, Sport Accord is a five-day gathering of 1,500 leading representatives from international sport.

The annual convention is held in a different country each year and encompasses the congress and general assemblies of more than 100 international sports federations and their related associations. This is the first time the event has been held in North America.

Its mission is to offer the sports community a powerful opportunity to come together on a global scale, in an exclusive and authoritative networking environment, to build relationships, share knowledge and develop ideas.

In addition to disseminating information on both the Foundation as an event organizer and the Vail Valley as a prime location for events, the VVF will also have the opportunity to discuss its potential 2015 World Alpine Ski Championships bid with key members of the International Ski Federation who will be in attendance.

"Sport Accord offers a tremendous opportunity for us to promote Vail and Beaver Creek to a wide array of sporting interests from literally every corner of the globe," said Ceil Folz, president of the Vail Valley Foundation.

Since 2003, when Sport Accord first took place in Madrid, the event has been held in Lausanne, Berlin, Seoul, Beijing and Athens, allowing attendees to experience the culture and hospitality of colleagues all over the world, and event-owners to visit cities and venues interested in hosting sporting events. In 2010, the event will be held in Dubai.

The Denver Metro Sports Commission, which had been interested in a potential 2018 Winter Olympic bid, has a goal of hosting 10 international sporting events in the coming years.

The United States Olympic Committee ultimately decided not to submit a U.S. city for a 2018 bid because of Chicago's 2016 Summer Olympic bid, but Denver could be in the mix for 2022, and Vail would be a logical venue for some of the alpine skiing events.

Vail tried unsuccessfully to land the 2013 World Alpine Ski Championships and is seriously considering a 2015 bid. Vail and Beaver Creek have twice hosted the event -- in 1989 and 1999.


1 Comment on "Foundation, Vail Resorts promote Vail Valley as international sports venue at Sport Accord"