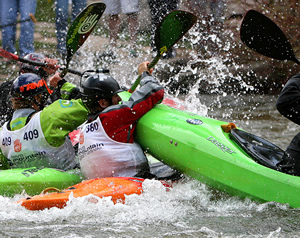 Trade in ski boots for running shoes and gear up for Vail's annual Teva Games
By realvail.com
April 27, 2009 — As winter gives way to spring in the Vail Valley and the ski equipment returns to the storage rack in the garage, it's time to break out the next set of recreational toys and prepare for the myriad of challenges available to outdoor enthusiasts at the 2009 Teva Mountain Games.

Scheduled from June 4-7, this year's edition of the Mountain Games will mark the inaugural year that the event will be hosted by the Vail Valley Foundation. In addition, the Foundation has added the new Triumph Development Vail Pass Half Marathon to the schedule, along with an expanded musical offering, with three days of free concerts in Vail Village.

"Now is the perfect time to start thinking about gearing up for the Teva Mountain Games," said Michael Imhof, Vice President of Sales and Operations for the Vail Valley Foundation. "Whether it's something as simple as lacing up your running shoes, rather than buckling your ski boots, or whether it's breaking out the bike or the kayak and looking for dry roads or good water, the end of ski season most definitely signals the beginning of Mountain Games training season."

The Teva Mountain Games is the nation's largest celebration of mountain sport, lifestyle and culture featuring the top professional and amateur athletes from around the world.

The environmentally-friendly adventure sporting event hosts up to 2,500 professional and amateur outdoor athletes, with an estimated 35,000 spectators, with athletes converging on Vail's mountains and rivers to compete in seven sports and 21 disciplines for over $100,000 in prize money.

Events include kayaking, rafting, mountain biking, road cycling, World Cup and amateur climbing, fly-fishing, trail running, DockDogs and multi-sport racing.

In addition to the outdoor mountain events, the Teva Mountain Games also includes a mountain photography competition, an interactive exhibition and demo area, the Green Light District, live music and mountain lifestyle parties.

The 2009 Teva Mountain Games is a project of the Vail Valley Foundation. For more information on the Mountain Games, visit www.tevamountaingames.com. For more information on the Foundation, visit www.vvf.org.


Comment on "Trade in ski boots for running shoes and gear up for Vail's annual Teva Games" using the form below