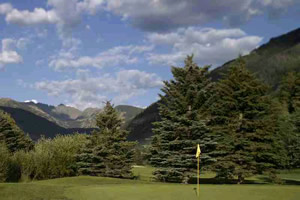 The Vail Golf Course driving range opened today (May 1), and the entire course is scheduled to open May 15.
Courtesy of the Vail Recreation District
Vail Golf Course driving range opens today; entire course up and running May 15
By realvail.com
May 1, 2009 — The Vail Golf Club will opened its driving range today for those eager to hit a few golf balls prior to opening day. The driving range will be open from 10 a.m. to dusk daily and, in addition, the pro shop is open from 9 a.m. to 6 p.m. daily offering great deals on golf attire and equipment.

Golf lessons will be offered daily beginning Tuesday, May 5 by appointment only and include use of the club's indoor golf swing analysis program and/or at the driving range. The golf club, which is operated by the Vail Recreation District (VRD), is scheduled to kick off its 43rd season May 15, weather and irrigation work permitting.

Range cards are available for $125 ($175 value) and are transferable or a basket of range balls is available for $5 per basket. Additionally, affordable rates will be offered throughout the season, including reduced rates for season passes and punch cards purchased by May 15.

The reduced rates are in effect in 2009 to offset minimal impacts golfers may experience during the club's irrigation renovation this summer. During the irrigation work, golfers can expect a minimum of 17 to 18 holes available for play at all times.

Work to renovate the Vail Golf Club's 40-year-old irrigation system is underway and is scheduled to end the last week in August. Work takes place from 7 a.m. to 7 p.m. Monday through Friday and a half day on Saturday.

No work takes place on Sundays. Once completed, the new irrigation system will allow the golf course to apply water to specified areas and prepare for a drought, become a more responsible user of water on the course, as well as improve the health of the greens and areas of play.

For more information, call the Vail Golf Club at 479-2260 or visit www.vailgolfclub.net. For information on the irrigation renovation, contact Vail Golf Club Superintendent Steve Sarro at 479-2262.

For information on the Happy Valley Grill, located within the Vail Golf Club, call 479-7321. For additional details on all VRD offerings and activities, go to www.vailrec.com.

Comment on "Vail Golf Course driving range opens today; entire course up and running May 15" using the form below