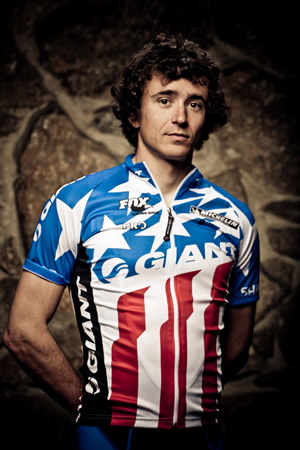 Beijing Olympian Craig to ride in Teva Mountain Games mountain-bike race
By realvail.com
May 2, 2009 — Mountain bikers of all ages and abilities will be able to measure themselves on an Olympic scale June 6 as 2008 Beijing Olympian Adam Craig has committed to compete in the SoBe X-Country Bike competition, presented by Sprint.

A 12-time national champion in various disciplines of competitive cycling, the 27-year-old Craig is one of the more recognizable names on the off-road cycling circuit. A Maine native, he has steadily progressed through the cross country ranks, winning three consecutive U23 (under 23 years of age) national titles before climbing to the top of the elite nationals podiums in 2007 and 2008.

"We are obviously thrilled to have Adam in the field for the SoBe X-Country, presented by Sprint mountain bike race," said Michael Imhof, Vice President of Sales and Operations for the Vail Valley Foundation. "Given the depth and talent of the field in previous years, however, he may have his work cut out for him and it should be an exciting competition."

In addition to the cross country discipline, the Giant rider also competes in super-downhill and single speed categories of mountain biking, as well as cyclo-cross. While not a UCI (Union Cycliste Internationale) sanctioned event, Craig captured the 2007 Single Speed Mountain Bike World Championships in Aviemore, Scotland, earning a commemorative tattoo as his prize.

Off the bike, Craig spends his free time participating in various extreme outdoor activities, including whitewater kayaking, backcountry and Nordic skiing and rally car racing, serving as the co-driver of a two-man team. In that role, he is responsible for deciphering instructions that explain what is around each blind corner and relaying them to the driver.

Competitors in the SoBe X-Country, presented by Sprint, will start at the base of Vail's Golden Peak, racing up the mountain on a new course that will test the riders' pre-season endurance and tenacity. Just a few steps from Vail Village, this spectator friendly event has one of the largest cash purses in the mountain biking world.

The Teva Mountain Games is the nation's largest celebration of mountain sport, lifestyle and culture featuring the top professional and amateur athletes from around the world.

The environmentally-friendly adventure sporting event hosts up to 2,500 professional and amateur outdoor athletes, with an estimated 35,000 spectators. Athletes converge on Vail's mountains and rivers to compete in seven sports and 21 disciplines for over $100,000 in prize money.

Along with the SoBe X-Country, presented by Sprint Mountain Bike race, events include kayaking, rafting, road cycling, World Cup and amateur climbing, fly-fishing, trail running, DockDogs competitions and multi-sport racing.

In addition to the outdoor mountain events, the Teva Mountain Games also includes a mountain photography competition, an interactive exhibition and demo area, Gear Town, live music and mountain lifestyle parties.

The 2009 Teva Mountain Games are a project of the Vail Valley Foundation. For more information on the Mountain Games, visit www.tevamountaingames.com. For more information on the Foundation, visit www.vvf.org.



Comment on "Beijing Olympian Craig to ride in Teva Mountain Games mountain-bike race " using the form below