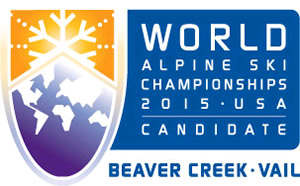 Vail Valley Foundation submits official application in bid for 2015 World Alpine Ski Championships
By realvail.com
May 8, 2009 — The Vail Valley has officially taken the first step in the process of hosting a third World Alpine Ski Championships, as the U.S. Ski and Snowboard Association has selected Beaver Creek/Vail as the American candidate applicant for the 2015 Championships.

The Vail Valley played host to the 1989 and 1999 World Championships and has been a part of the FIS Alpine World Cup since the circuit's inception in 1967. The annual Birds of Prey men's World Cup is one of the most popular on the six-month global circuit each season.

"Beaver Creek/Vail has long been one of the world's foremost leaders and innovators in alpine ski racing," said USSA President and CEO Bill Marolt. "The USSA is proud to put Beaver Creek/Vail forward as our candidate for the 2015 FIS Alpine World Ski Championships. It's the right time for this prestigious event to come back to America."

"We are excited to get under way with the candidate process," offered Ceil Folz, president of the Vail Valley Foundation" and we look forward to working closely with USSA and all of our partners to bring home the Championships."

The USSA and Beaver Creek/Vail submitted the candidacy application to the FIS by the May 1 preliminary deadline. The FIS has established an Oct. 31 date for each candidate applicant to confirm its candidacy or step away from the bid process, once the terms of the Championships have been finalized.

In addition to Beaver Creek/Vail, other candidate applicants for the 2015 FIS World Alpine Ski Championships will include St. Moritz, Switzerland and Cortina d'Ampezzo, Italy. Both St. Moritz and Cortina were also candidates for the 2013 Championships, which Vail unsuccessfully bid on.

The 2015 FIS World Alpine Ski Championships will be awarded in June of 2010 at the FIS Congress in Antalya, Turkey.


Comment on "Vail Valley Foundation submits official application in bid for 2015 World Alpine Ski Championships" using the form below