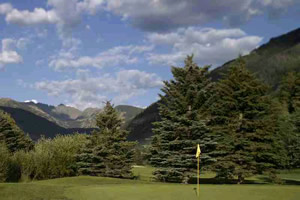 Vail Golf Club opens 10 holes, offers final day of discount pass sales
By realvail.com
May 14, 2009 — The Vail Golf Club is now open for its 43rd season, offering some of the best rates in Eagle and Summit counties with unlimited play for $25 per person to walk the course or $37 per person, including a cart.

The course will be open from 9 a.m. to 6 p.m. daily and will feature 10 holes, including the back nine, with the exception of hole 15, plus holes one and nine. Golfers who use carts will be asked to remain on the cart paths during early season play. Golf course crews are anticipating opening the remaining eight holes within the next two weeks.

According to Vail Golf Club Director Alice Plain, the golf club is opening only 10 holes this week to accommodate work taking place to replace the course's 40-year-old irrigation system, as well as to allow the greens additional time to recover from the winter. Additionally, three tee box is under renovation and, once work is complete, the remaining holes will be available for play.

"Our golf maintenance team has been doing an amazing job in preparing the course for this week's opening, as well as working on the irrigation renovation and three tee box repairs," said Plain. "The greens are rejuvenating quickly and are in great shape following another record-breaking winter of snow."

The driving range is currently open from 9 a.m. to dusk daily. Golf lessons are offered daily by appointment only and include use of the club's indoor golf swing analysis program or sessions at the driving range.

Lessons will be offered on the course beginning Friday. Happy Valley Grill also will open the starter shack Friday, featuring great snacks and drinks at great prices.

Friday, May 15, is also the final day to receive early season discounts on season passes such as Gold, Silver and 10 and 20 punch passes. Plain says many prices have been reduced by $100 over 2008 and include additional benefits such as free range bags and discounts in the pro shop if purchased by May 15. Additionally, golfers can play for just $18 per nine hole round if they purchase the 20, 9 Hole Round Pass by May 15.

"This year's season pass rates are some of the most affordable rates we've offered in years," said Plain. "We'll be offering great rates throughout the season, but hope golfers take advantage of these early season discounts."

For more information, call the Vail Golf Club at (970) 479-2260 or to www.vailgolfclub.net. For information on Happy Valley Grill, located within the Vail Golf Club, call (970) 479-7321.



Comment on "Vail Golf Club opens 10 holes, offers final day of discount pass sales" using the form below